Tuesday, November 26th, 2013
Soldiers who fought, died in Vietnam War honored during 50th anniversary
By Kathy Thompson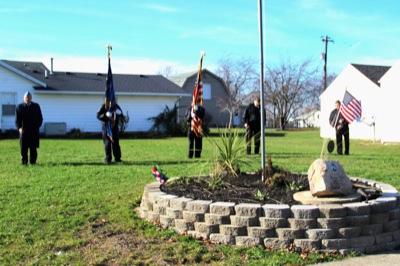 Fifty years ago the United States' military presence was ramped up in South Vietnam.
More than 3,000 Ohioans lost their lives in that conflict, seven from Mercer County and 14 from Auglaize County, according to records from the U.S. Veterans Affairs Office. More than 3 million men and women served in some type of military service during the conflict with more than 58,000 killed and 1,600 still considered missing.
Events to honor those who served as well as the fallen have been happening throughout the country during this anniversary year.
Earlier this month, Celina VFW Post 5713 hosted a dinner for all Mercer County veterans, and the 75 veterans who attended were given a 50th Anniversary Northwest Territorial Mint Commemorative Pin.
In a more recent private ceremony, Pfc. Benny James Sapp, who lost his life outside Binh Duong in South Vietnam on Nov. 20, 1968, was honored by his family and friends in Rockford. He was 19 years old when he was killed.
Members of American Legion Post 508 joined family members in the dedication of a memorial garden that includes an American flag and a large stone with Benny's picture at the home of his oldest brother, Charles Sapp, on Front Street.
"Benny was the greatest," said a younger brother, Steve Sapp, 54, of Chattanooga. "We shared a bedroom until he left and he made sure I was included in a lot of things."
Sapp said Benny made sure he played Saturday morning football with his friends, took him to school and even took him on dates.
"We just had a close relationship even though he was a teenager and I was still pretty young. I was 10 years younger than him, but he took care of me," Sapp said.
Benny Sapp had dreams of attending college, working with computers and marrying his high school sweetheart before he left, his brother said.
"But, he enlisted to get it over with," Sapp explained. "He wanted to just get it done before he started a family and really settled down. He didn't want it hanging over him."
Teens today, unless they are in the military, don't understand what young men and women like Sapp had to go through, Sapp said.
"I don't think the kids realize how difficult it was then, especially with the attitudes at the time," he said. "When those guys got back, they were treated really bad. Some got spit on. Some got called names. It wasn't a good time. They didn't get a ticker tape parade. It was scary. They were young kids, far away from home, in jungles. He'd only been there six weeks before he was killed."
Sapp said his brother never fell down on a job and once he started a mission, was completely dedicated.
Dedicated to the point while he was setting up a parameter for a listening post that fateful night. Hearing the enemy nearing, Sapp radioed for permission to re-enter the camp instead of staying in the line of fire.
But Steve Sapp said that request was refused several times and either a grenade or a round of mortar killed Benny Sapp and two others.
"They followed orders," Sapp said. "Benny was doing what he was supposed to do. The kids today take too much for granted. They have no clue what it means to be putting your life at risk for someone else."
Sapp said in the late 1960s and '70s attitudes were different.
"No one is spitting on the soldiers when they come home today," he said. "No one is calling them baby killers."
Protests about the war sprang up all across the country. In February 1965, about 3,000 men were being drafted a month. By October, 33,000 were being drafted monthly. Draft cards were burned and students attending colleges and universities took control of campuses in protest. Images of Napalm dropping on villages were broadcast to television audiences and even celebrities like boxer Muhammad Ali burned his draft card in 1967 and was punished by having his boxing title stripped.
Sapp said he's not really sure why the United States is once again involved in a war.
"I don't think we understood it then," he said. "And I don't think I understand it today."
Bruce Compton, 66, of Celina, was drafted into the Army when he, too, was only 19-years-old.
"I wasn't real happy about it when I got my letter to go," Compton remembers. "I had flunked my first physical and really didn't think I'd have to take another one. But then I got that letter in the mail and there I was."
Compton didn't see any combat; he worked as a helicopter mechanic and crew chief in South Vietnam at Dong Tam and Can Tho in 1968. He remembers how the pubic treated those in uniform coming home.
"I know lots of soldiers got spit on, called names," Compton said. "I didn't really have that problem. I got to come back to the states the day after Christmas and I think some people gave me strange looks or didn't seem too happy with me."
Compton said he thinks the war currently being fought in the Middle East is very similar to the Vietnam War.
"I think they're both politically motivated," Compton said. "We've lost a lot of lives for what? It's not like it was in World War II. In that war, we were fighting to protect people. We saved Germany and France."
Compton said he is proud those serving today are treated with far more respect than those 50 and 40 years ago.
And he's finding now people come up to vets from Vietnam and thank them for their service.
"That's the important part," Compton said. "That was a part of our life and it's over, but it's not forgotten."

Correction:
Bruce Cromwell was misidentified in the story. The mistake was due to a reporter's error.