Saturday, December 21st, 2013
Bulldogs knock off Titans in OT
Celina rallies from four-point deficit in extra session
By Ryan Hines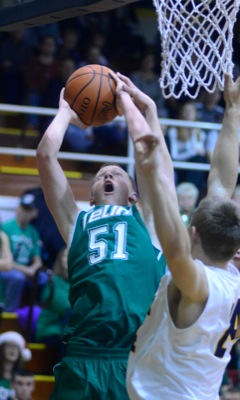 OTTAWA - After blowing a six-point lead in the final 2:06 of the fourth quarter, Celina rebounded in overtime and snapped a six-game losing streak in Ottawa as the Bulldogs knocked off the Ottawa-Glandorf Titans 69-64 in Western Buckeye League action on Friday night at the Supreme Court.
The Bulldogs (3-1, 1-1 WBL) were leading 59-53 when Celina's offense went into an ill-timed scoring drought. Celina turned the ball over once, Ryan Hoyng missed the front end of one-and-one opportunities at the free-throw line on two occasions in the final 1:21 of the fourth quarter and O-G (3-3, 1-1 WBL) took advantage.
Alex Schroeder converted a three-point play and then added a layup off a steal with 45 seconds on the clock to trim Celina's lead to one point at 59-58.
The Titans had the ball with 19.9 seconds on the clock and Matias Trampe-Kindt drove baseline with about eight seconds to play and missed a contested layup. A scrum for the rebound ensued before O-G's Noah Bramlage came up with possession of the ball. The officials then made a very questionable foul call on Celina with 1.3 seconds on the clock, sending Bramlage to the free-throw line for two shots and a chance to win the game.
"With a lot of the stuff that they were letting go - we were getting two-handed chucks in the back trying to rebound and I asked them to call those and they never did - I don't think you make that kind of call at the end of a game," said Celina head coach Chris Bihn. "If they were making those calls the entire game, then fine call it, but I don't think that the flow of the game dictated that call."
Bramlage's first free throw rolled off the rim and Celina called timeout before he made the second shot to tie the score at 69-69. Celina had one last chance to win the game in regulation but Ryan Hoyng's desperation three-point attempt hit the front of the rim at the buzzer.
Celina went scoreless on its first two possession of the extra session while Schroeder hit a layup and a 15-foot jump shot to give the Titans a 63-59 lead with 2:32 on the clock.
Caleb Hoyng then made a contested layup and Ryan Hoyng hit a short jumper off the glass to tie the score at 63-63 at the 2:03 mark.
Bramlage was then fouled on a drive to basket and made one-of-two at the free-throw line before Eric Moeder connected on a three-pointer to give Celina the lead for good at 66-64 with just 54 seconds remaining.
The Titans missed three-point attempts on their last three possessions while Ryan Hoyng and Caleb Hoyng combined to hit three free throws in the final 18 seconds to seal the win for Celina.
"We had the focus we needed in overtime. We were down four and they never lost focus and just continued to work hard," said Bihn. "I think that we showed some heart, attitude and a desire to win tonight. Winning on the road anywhere in the WBL is big, especially here."
Ottawa-Glandorf head coach Tyson McGlaughlin was disappointed in how the Titans finished the overtime session.
"Celina made plays when they had to. They were smart with the ball and we weren't. We had a four-point lead and we took some bad shots and had a couple of turnovers. You can't beat a good team making those types of mistakes," said McGlaughlin. "This one is going to haunt us for a while. You have to make plays in crunch time and for whatever reason we didn't do that tonight."
Celina rode the hot hand of Ryan Hoyng to get off to a good start in the game. Hoyng scored 18 points in the first half to help give Celina a 36-32 lead at halftime.
"We dug ourselves in a hole in the first half. The mindset of the Celina guys was big. They gained a lot of confidence because they just physically beat us up and our guys just didn't respond," said McGlaughlin. "They just wanted it more and it showed in the first half. They manhandled us."
O-G then used a box-and-one defense to try and slow down Ryan Hoyng and it worked. However, Eric Moeder and Caleb Hoyng delivered big shots throughout the second half.
"They went to a box-and-one on Ryan and we needed someone to step up. Eric and Caleb did," said Bihn.
Moeder connected on four three-pointers and finished with a career-high 14 points.
"After the first one went in, it helped build some confidence for me. I had to stay aggressive and keep shooting," said Moeder. "They were trying to take Ryan out of the game and everyone stepped up for us."
"Moeder didn't just make threes, he was making 25-footers at crucial times," said McGlaughlin. "I wasn't expecting any 25-footers, that's a deep shot. He got into a rhythm and made big shots for them. Celina proved that they aren't a one-man show."
Caleb Hoyng came off the bench to score eight of his 11 points in the second half.
"Caleb has all the skills to be successful. We were waiting to see him step up in a game and he made those steps tonight. He played well," said Bihn. "He was a welcomed addition tonight.
Ryan Hoyng scored just six points in the second half but finished with a team-high 24 points. Bramlage led all scorers for O-G with 25 points while Schroeder contributed 17 points.
Celina is back in action again tonight, hosting Hamilton.