Friday, January 24th, 2014
Bulldogs scorch Roughriders
Celina's hot start on offense buries St. Marys
By Ryan Hines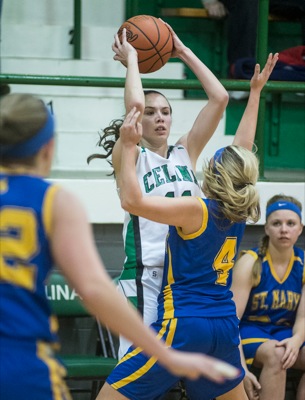 CELINA - After watching her team shoot just 34 percent from the field for the first 14 games of the season, Celina girls basketball coach Toma Hainline was thrilled to see the Bulldogs break out offensively on Thursday.
The Bulldogs were scorching hot early on and led wire-to-wire for a 62-45 victory over rival St. Marys in Western Buckeye League action at the Fieldhouse.
Celina (2-13, 1-4 WBL) connected on 10-of-15 from the field in the first quarter and took control early against St. Marys (2-13, 0-6 WBL).
Leah Bihn drilled a 17-footer to open the game for the Bulldogs and Jenna Berry buried a three-pointer from the top of the key before Bihn connected from the baseline on a 15-footer to give Celina an early 7-0 lead just 2:23 into the game.
"We hadn't been shooting the ball well the last two days at practice and during the first timeout, I told the girls that they were kind of BS-ing me on their shots," joked Hainline. "We have been anywhere from 17-35 percent from the floor consistently (this year), so it was a good shooting night. We were zoned in, I guess."
Celina was leading 11-4 with 3:22 remaining in the opening quarter before the Bulldogs went on a 12-2 run.
Berry hit a 15-footer on the baseline and Caelyn Reineke made a layup on a nice pass from Kourtney Fark to start the run. After an Erika Angstmann bucket for St. Marys, Kelly Stahl converted an offensive rebound into two points before Heather Heiby and Bihn each hit a three-pointer to give the Bulldogs a commanding 23-6 advantage entering the second quarter.
"They absolutely came out on fire. It wasn't just one girl. They all came out and were hitting shots," said St. Marys head coach Kelly Fulmer. "They put us in a hole early. All the scouting and stats, don't lie, so it kind of took us by surprise."
Bihn scored seven points in the opening quarter while Heiby and Berry chipped in with five apiece.
"I told our girls that we were going to go after them and that's what we did. We jumped on them early," said Hainline. "It was very important to get off to a good start, especially with my young crew. It was a good confidence booster, not only for this game but for the rest of the season."
Celina didn't let up early in the second quarter as Berry scored six points to spark a 7-3 run that put the Bulldogs on top 30-9.
The Bulldogs then closed the first half with a 6-1 run that gave them a 38-15 lead at halftime. Celina shot 14-of-28 from the field in the first half while St. Marys was just 5-of-19.
Although the Bulldogs cooled off offensively in the second half, 10-of-30, Celina controlled the boards and never let the Roughriders rally. The Bulldogs held a 42-23 edge, which included 20 offensive rebounds.
"We've been working on our rebounding quite a bit lately in practice on both ends of the floor," said Hainline. "We were a little shy earlier in the season but I think we are getting tougher. I told the girls that the rebounding was good, but I didn't know it was that good."
Losing the battle on the boards has been a reoccurring problem for the Roughriders.
"Rebounding has killed us all year long, (especially) giving up offensive rebounds," said Fulmer. "We knew they eventually would have to go cold but they got the offensive rebounds and were able to stick them back in."
Celina's lead grew to as many as 26 in the second half before St. Marys cut its deficit to as few as 11 in the fourth quarter. Angstman scored 10 and Reagan Aller scored eight in the second half to key the Roughriders' late surge. Angstmann and Aller scored 15 points apiece to pace the Roughriders.
Berry hit for a game-high 17 points to lead the Bulldogs with Heiby and Kelly Stahl adding 14 apiece to go along with Bihn's 11. Stahl also added a game-high 10 rebounds while Berry added eight.
Celina is back in action again on Saturday with a makeup game at the Fieldhouse against Lima Central Catholic. St. Marys is at New Knoxville on Saturday.