Friday, January 31st, 2014
Defense leads 'Riders to first WBL victory
By Bruce Monnin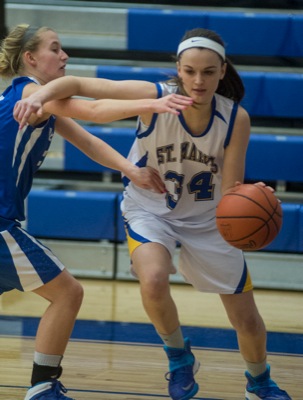 ST. MARYS - Searching for their first Western Buckeye League win of the season, St. Marys relied on a strong defensive effort during Thursday's matchup at home against Defiance.
The Roughriders built a 12-point lead by halftime and then survived an early fourth-quarter comeback by the Bulldogs and St. Marys earned a 40-32 victory.
"In games past we haven't had a whole lot of intensity in our defense," said St. Marys coach Kelly Fulmer. "I just challenged them today to play hard, play under control and play smart. Credit to us, we showed up to play defense today. Forced them into some shots they didn't want to take, and didn't allow them those second-chance shots."  
The Roughriders (3-13, 1-6 WBL) were led in scoring by a couple of seniors, as Reagan Aller scored 12 points and Kelsey Rohrbach added nine. While Aller made only 3-of-12 shots from the field, she was 5-of-6 from the charity stripe and seemed to always make a critical play when St. Marys needed it most.
"That's how she's been all year," added Fulmer. "When you really need her she'll step right up and make a play. All the seniors stepped up tonight. When Kelsey (Rohrbach) fouled out at the end of the third quarter, I told her she played a heck of a ball game. The seniors really wanted to win this game and they did what they needed to do."
The underclassmen did their part, too. Freshman Quincy Rable grabbed 10 rebounds before fouling out and sophomore Erika Angstmann took over on the glass at the end of the game, picking up nine rebounds.
St. Marys held Defiance (3-13, 0-6 WBL) to only three baskets in the entire first half, allowing the Roughriders to build a 26-14 advantage at halftime.  The Bulldogs closed the gap a bit in the third quarter, but St. Marys still led 31-22 going into the final eight minutes of action.
The home crowd had cause for concern at the start of the final quarter as Defiance started with four free throws and a Sara Schudel basket to cut the Roughriders' lead to 31-28. But Reagan Aller was up to the challenge, making a basket and two free throws to stretch the lead back to seven points with four minutes remaining. 
St. Marys then only allowed four points the rest of the way, giving the Roughriders their first WBL triumph of the season.
The Roughriders return to action Saturday, hosting St. Henry.