Thursday, April 10th, 2014
Wildcats edge Panthers
By Gary R. Rasberry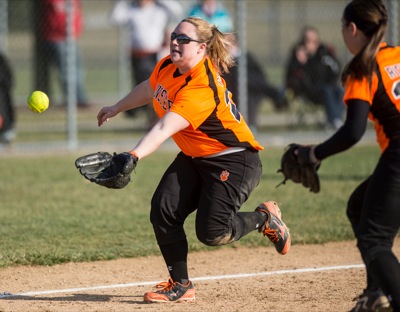 MINSTER - Conditions at Four Seasons Park were perfect for a good old fashioned pitchers' duel.
The wind was blowing in and two of the best pitchers in the area were in the circle as Parkway and Minster squared off in an early MAC softball matchup.
Panther ace Sierra Fent and Wildcat standout Kayla Richard rose to the occasion as Marissa Conrad's third inning RBI single proved to be enough as Minster beat Parkway 1-0.
The win moves Minster to 5-0 on the spring as the Panthers, hampered by the rainy start to the season, drops to 2-1.
"That was just a helluva game," Minster coach Scott Robinson said. "Sierra is a great pitcher. She's one of the best in the state. I just love that kid. We looked forward to this challenge tonight. Kayla pitched a great game tonight. (She) hit her spots."
Richard and Fent, friends and teammates during the summer travel ball season, had exceptional efforts as neither pitcher walked a batter on the day.
Fent was pitching well but had to overcome some uncharacteristic errors in the game. The Panthers committed four in the game, but none of them resulted in any damage.
"I don't want to give the excuse that we haven't played for a week, which isn't ideal, but you have to come out and make it happen," Parkway coach Mark Esselstein said. "We did a lot of things well, but not enough to win a tight game."
Richard, on the other hand, had just one major threat to deal with when Terra Walls and Kayle Heckler had back-to-back one out hits in the third. Richard bowed her back and struck out Whitney Rollins for the second out and then enticed Zoey Pond to pop out to third to end the inning.
Minster started the bottom of the third with Kathy Prenger singling. Richard followed with a grounder that forced out Prenger at second. After Richard stole second and Rachel Heckaman popped out to second, Marissa Conrad took a Fent 2-2 offering down the third base line. Richard scored easily to make it 1-0.
"They were able to get a big two-out base hit," Esselstein said. "That was the difference."
"Sierra plays for me in the summer, so I have a bit of an inside track. We knew what we had coming in," Robinson said. "She doesn't give you anything to hit. We knew if we could get a runner or two on, we might be able to pressure their defense a little bit. We were able to do that. Marissa came through with a big base hit."
Fent settled down quickly, retiring nine straight, six by strikeout, before Alexis Robinson reached on an error with two outs in the sixth. Fent retired the final batter to finish with a two-hit, nine strikeout appearance.
"Sierra got better as the game went on," said Esselstein. "We just need to swing the bats with a little more confidence."
Richard kept right rolling along, retiring 13 straight at one point before giving up a sixth-inning single to Alyx Slusher.
Parkway's last chance to square the game came in the seventh. Fent led off with a single. Terra Walls set up to bunt Fent to second, but popped it up. Conrad dashed in and made a scoop catch and fired to first to double up Fent. The double play proved big as Heckler doubled to left. Richard put matters to rest by getting Rollins to ground out to second.
"The few runners we got on, we just didn't come up with the big hit when we needed it," Esselstein said. "We got three runners to second base. We needed someone to find a hole and that didn't happen. Give Kayla a lot of credit. She pitched a heckuva game and so did Sierra."
"Kayla was great hitting her spots. We set up our defense around that," Robinson said. "Great pitcher, great kid, great attitude. She wanted that win. The seniors wanted that win real bad."
Minster returns to action on Saturday, hosting St. Marys for a 1:30 p.m. single game. Parkway hosts Paulding on Friday.