Thursday, June 19th, 2014
Giving it a 'curl'
Tingley dreams of becoming curling Olympian
By Colin Foster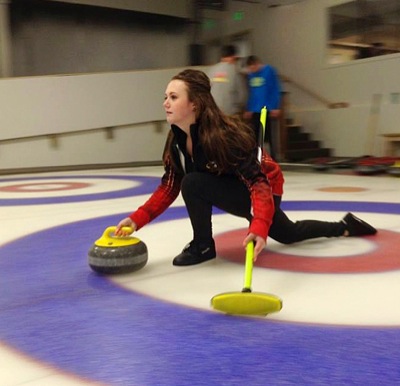 Most area student-athletes dream one day of making it big in basketball, volleyball, football or baseball.
Logan Tingley has a different dream in a different sport.
Tingley, a soon-to-be senior at Celina High School, hopes in the future to become an Olympic qualifier for the United States Curling team.
"It's going to take a lot of dedication," she said. "Throughout the summer, I'll be up in Fort Wayne quite a few times a week. It's going to take a lot of time and a lot of concentration."
Tingley, the daughter of Craig and Kim Tingley, was instantly attracted to the sport from the moment she laid eyes on it in 2010.
"I was watching the 2010 Winter Olympics to see (gymnastics)," she explained. "Curling was on, so I kept watching to see if gymnastics were on later. By the time I figured out that it wouldn't be on, I saw a really attractive guy (Olympian Chris Plys) playing on the USA men's team. So I kept watching to see this attractive guy. Then I would pick stuff up on the sport and decided, 'Okay. I have to meet him and I have to try this.' "
Shortly after, Logan and her mom went to Fort Wayne for a curling session and the sport quickly became a passion.
"Fort Wayne has a 'learn-to-curl,' " she explained. "They host one at least once a month. You get a half hour off-ice instruction and then you get two hours on ice. You end up playing a game. I went with my mom and she did not play. I played with a bunch of strangers and I loved it. That whole year, I came back every month for a 'learn-to-curl.' "
For the last several years, Tingley has put in roughly four hours a week on the ice with her Fort Wayne Curling Club teammates, playing games and doing drills. She has been competing competitively for the last three years in tournaments all over the country, places like Detroit, Columbus and Fort Wayne, and recently road-tripped to Minnesota with her mom to play in the Lupus Spiel. Tingley said she plans on traveling back to Minnesota again in July for a junior camp, where she will be trained by national champions and Olympians.
Tingley made her curling tournament debut in Detroit, playing for a team started by the women of Fort Wayne Curling Club. She credited coach Jerri Mead for helping develop her curling technique and starting the team on which she currently plays.
The team features Tingley, who plays the lead position, Marti Lemert (skip), Michelle McKuras (vice), Mead (vice) and Kimi Moehring (second). Tingley is the youngest but one of the most experienced players on her current team.
Over the next several years, the team will play in tournaments across the country in hopes of receiving invites to bigger and better tournaments called bonspiels.
Tingley said she is considering attending college in Fort Wayne but is also exploring colleges in Wisconsin and Minnesota, because she believes there are better opportunities out there to help enhance her curling career.
The United States Curling Association recently changed their Olympic qualifying procedure after a disappointing showing at the Sochi games. The USCA is now handpicking individuals and forming teams for the national championships. Points and cash prizes are awarded to teams as they travel around and compete in bonspiels. The winner of nationals will attend the Olympic trials.
"It opens up my options a lot more, because my team as a whole can still make it to nationals. We can still win and then also go to the Olympic qualifiers," Tingley explained. "But if they would handpick one of us and say 'Hey, we want you on a team and we're going to put you on a team if you're willing to do that,' that's always an option now and it wasn't before. It creates more opportunities."
Tingley has actually had the chance to meet several Olympians during her travels, including Plys, whom she encountered at a tournament in Fort Wayne a few years after seeing him on television.
"We actually ended up sitting down and we talked for a while," she explained. "The next day we sat and had lunch."
On that lunch trip, Plys gave her tips on curling and talked about his experience at the Olympics - a place she hopes to be one day.
"Hopefully within a few years we'll get to go to nationals," she said. "Most curlers actually don't make the Olympics until their late 20s or early 30s or even in their 40s."