Wednesday, December 24th, 2014
Man's childhood drawing hangs in Belgian museum
By Kathy Thompson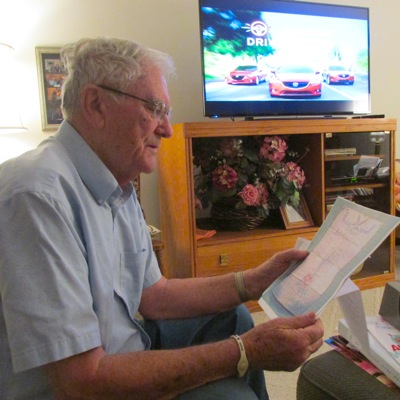 CELINA - A Christmas greeting created by a Rockford fifth-grader in 1944 adorns the wall of a Belgian museum, but how it got there remains a mystery.
Clair Stetler, 80, who now lives in Celina, says he believes the artwork he colored years ago may have been part of a class project to send Christmas greetings to those serving overseas in the military.
Stetler, a Korean War veteran, said he had no idea his childhood drawing was on display in a museum until he received a letter from Jan Oberink of Aalten, The Netherlands, asking about it.
Oberink in his letter told Stetler how much the picture meant to him, his countrymen and his family. He said he discovered the picture when he took his children and grandchildren on a holiday trip to Belgium and visited the museum.
"Here we are celebrating our freedom this year," Oberink told the newspaper. "It's good to remember those who fought for that freedom, including the soldiers from the U.S. They were very special to us and many died for us. This is something none of us here want to forget."
Oberink said it's a shame no one knows how the picture got to the museum.
"But I do want Clair to know that I think he was a special student and a special man," Oberink said. "What he did for at least one soldier back then was a very good thing. So many of them didn't receive anything for Christmas and this must have really meant something to someone."
The museum opened in March and focuses on World War II, particularly the Battle of the Bulge in which 76,890 American servicemen were killed or are still considered missing. The museum depicts the terror of the townspeople and the U.S military members as they fought the Germans.
No one from the museum returned phone calls or emails seeking information on how the museum received Stetler's Christmas greeting.
Stetler wishes he could recall more about the art project.
"Our teachers and families were, of course, worried about the American soldiers and military people during that time," Stetler said, his eyes glued to a copy of the greeting he created. "But for the life of me, I just don't remember doing it. I sure wish I did. I think it may have been a class project where we all colored a picture and then sent it to the troops overseas."
Oberink said the picture caught his eye because it was drawn by an American child, was well preserved and "very special."
Stetler said he intends to contact Oberink and thank him for sending him a copy of the greeting.
"I served in the U.S. Army during the Korean War and even though I didn't get in any action, I know how important it is for military members to know there are people out there who care, especially at this time of year when people are spending time with their families," Stetler said, his eyes misting a bit. "But I do know it's a real privilege for my picture to be in that museum. Would love to see it. Wouldn't that be something?"
Stetler and Oberink said preserving memories allows younger generations to learn what life was like - the good and the bad - in the past. And both men agree that military members need to know they are appreciated.
"It's a little thing like this picture that warms a heart," Oberink said. "Sometimes that's all it takes, is a little thing."