Monday, January 5th, 2015
WaterDogs earn tri-meet wins
By Colin Foster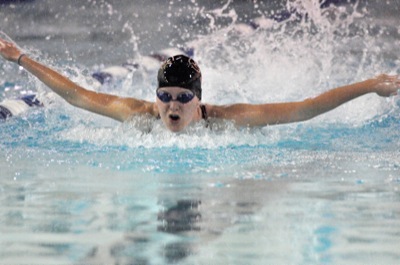 CELINA - Saturday evening was a swimming showcase for Celina on Senior Night.
The number-heavy WaterDogs swept the boys' and girls' team titles in a tri-meet with Coldwater and St. Marys at the Auglaize/Mercer County Family YMCA. The Celina girls tallied 149 points compared with Coldwater's 97 and St. Marys' 79. The Bulldog boys totaled 173, St. Marys had 31 and Coldwater's lone boy swimmer, Caleb Keck, scored 12.
"I throw kids around in different events when we have this Senior Night, and we had some good times from kids in off events," Celina coach Matt May said. "Every once in a while, that's what you need to do so you don't get into that monotony of swimming the same things all the time. It was a good meet to do that."
Celina's 200 medley relay team of Austin Haines, Matthew Moege, Garrett Weininger and Mason Baker defeated another Bulldog team for first in the event (1:53.63). The Bulldogs 200 freestyle relay team of Guggenbiller, Weininger, Heath Laux and Matthew Rable took first with a time of 1:55.92. Ian Darras, Trey Temple, Baker and Jared Fleagle placed first in the 400 freestyle relay with a swim of 3:55.09.
Baker won the 200 individual medley with a time of 2:23.96. Weininger captured titles in the 50 free (25.33 seconds) and 100 backstroke (1:10.28). Jared Fleagle won a pair of events - the 200 freestyle (1:59.05) and 500 freestyle (5:37.18) - and Grant Guggenbiller was the top performer in the 100 freestyle in a time of 56.23 seconds.
Celina's C.J. Kimmel was the top diver with a score of 299.40.
Amanda Sletcher won two individual titles for the Celina girls - the 200 individual medley (2:26.47), and the 100 butterfly (1:06.79).
Other individual winners from Celina were McKenna Black (200 freestyle, 2:25.22), Megan Muhlenkamp (500 freestyle, 6:14.07) and Alli Darras (100 breaststroke, 1:22.42). The 400 freestyle relay team of Jenna Coon, Black, Muhlenkamp and Darras won with a with a time of 4:19.63.
The Coldwater girls 200 medley relay team (Mara Tobe, Mariah Bruns, Kierstin Siefring and Courtney Bettinger) won with a time of 2:05.90. Bettinger, Grace Wendel, Seifring and Tobe combined to win the 200 freestyle relay in a time of 1:53.05.
Bettinger won multiple events, the 50 free (27.17 seconds) and 100 free (1:02.15). Tobe was the top finisher in the 100 backstroke (1:16.24).
The lone male competitor for Coldwater, Keck, placed first in the 100 breast (1:14.56) and also finished second in diving with a score of 286.65.
"I was really happy with the medley relay, I think we ended up dropping three seconds," Coldwater coach Janell Miller said. "Courtney Bettinger and Mara Tobe also taking the 50 freestyle.
"The 200 free relay time was pretty decent, not our best, but close. I was happy overall with everyone's performances. We had a good breaststroke from Mariah (Bruns) (second in 100 yard breaststroke with a time of 1:22.79) and then a good fly from Kierstin (Siefring). All in all, we had a lot of people step up and had some times drop. That's all we can ask for."
St. Marys' Madison Taylor won the female diving competition with a score of 261.00 and set a new school record in the process. For the boys, Riley Niekamp won the 100 butterfly with a time of 1:07.93 and also placed second in the 100 breaststroke (1:15.48).
"We had some really good swims," St. Marys coach Amy Wenning said. "My three boys all had best times in everything except for the 500. Our times are better. Unfortunately, we don't have very many swimmers, so it's hard to win meets, especially for our boys without any relays.
"On our girls side, our top girls did really well. They all had personal best times. Our divers, we had a girl diver and boy diver both break our team records tonight (Madison Taylor and T.J. Mele). For the number of kids we have, I think we did really well."