Friday, January 23rd, 2015
Flyers fend off fiesty Redskins
By Colin Foster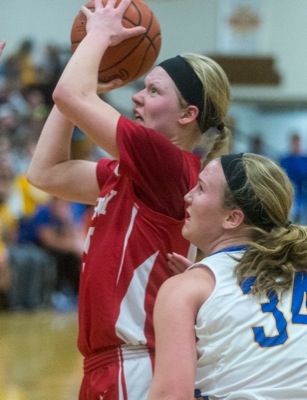 MARIA STEIN - After Marion Local's 46-31 Midwest Athletic Conference win over St. Henry on Thursday, Flyer coach Treva Fortkamp still couldn't believe the Redskins were winless in league play.
The red and white gave her Flyers, ranked second in the latest Division IV state poll, all they could handle for nearly three quarters before finally gaining some breathing room in the second half.
Allie Thobe scored 16 points and had seven rebounds and Cadence Jacobs added 13 points for Marion, who won the second half 25-13 to pull away for the victory.
"You've got to give St. Henry credit," Fortkamp said. "I told the girls after the game, they're a lot better than their record. They're going to be something to reckon with. They kept driving around us and taking it to the hoop and we kept fouling them. That can't happen.
"It's a win. It's a big win ... but we've got to come ready to play."
Jacey King (10 points) and Ellie Stammen (nine points) led St. Henry, who fell to 3-11 and 0-5 in league play. The Redskins have now lost four straight, but for coach Kurt Huelsman, there were plenty of positives to take away from this one.
"I think that we're getting better, which is good for us because hopefully we can be at our best, playing our best basketball when tournament hits," Huelsman said.
In the first quarter, King (six points) and Alyssa Mescher (four) carried the load offensively for the Redskins, which trailed 12-10 by the end. The teams combined for 11 first-quarter turnovers.
Back-to-back jumpers by Lexi Wilker and Macey Griesdorn jump started the Flyers in the next period. Thobe followed with a layup after a turnover and the Flyers led 18-10 with 5:21 remaining. St. Henry, however, responded with a 5-0 run, highlighted by three Olivia Stahl points and Cara Brockman's steal and layup. After Allie Prueter and Ellie Stammen swapped three-pointers, the score stood at 21-18 Marion when intermission arrived.
Jacobs nailed a triple and then banked a shot off the glass for two to put her team in front 26-18 in the early moments of the third quarter. St. Henry reduced the lead back to four points twice before the Flyers went on a 9-0 run to take a 39-26 advantage, which was cut to 10 heading into the fourth. Jacobs (nine points) and Thobe (seven) combined for 16 out of the 18 points in the period.
Taylor Siegrist split a pair at the line to end a scoreless final quarter with five minutes left, trimming the Marion lead back to single digits. It was the closest St. Henry got the rest of the time. Thobe followed by scoring off a turnover and then added a bucket while getting fouled. The Redskins were outscored 7-2 in total.
"We had our gameplan. We had our keys, and when we did it and when we executed it, things went in our favor," Huelsman said.
"Marion's a good team, obviously, and whenever we had those breakdowns and even those free possessions, we lost track of those keys and gave up splits, easy points in the paint, stuff like that ... they were able to capitalize on that."
St. Henry had chances at the foul line in the second half, finding itself in the bonus situation during the third quarter. But the Redskins converted just 5-of-14 free throws for the game.
"Our girls were very aggressive and I think we were in the bonus already in the third quarter and then we got to the double bonus," Huelsman said. "That's obviously a sign of how aggressive we are, which is good because Marion's a very good defensive team. I was happy with how our girls attacked. If you can't convert at the line, though, it's tough."
Olivia Stahl had a game-high 12 rebounds for St. Henry, which hosts Delphos St. John's next Thursday.
Fortkamp said after the game that she stressed to her team the importance of being ready for every game. Next on the slate for her team is a date with Versailles with a share of first place in the MAC on the line.
"From now on, I told them, 'Seniors, it's your job,' " Fortkamp said. "I could tell in the hallway. I could tell, and I kept reminding them they need to be ready. They need to be focused.
"Thirty-two minutes, we've got to be ready to play. Everybody wants to beat the Number Two team in the state."