Friday, February 6th, 2015
Wildcats use defense for win
By Robb Hemmelgarn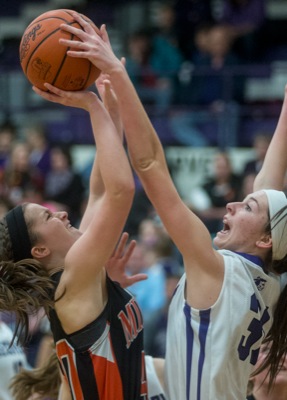 FORT RECOVERY - Not often can a team close a Midwest Athletic Conference game with a nearly 12-minute scoring drought from the field and come away with the victory.
Despite their lack of offensive fireworks for almost the final 1 1/2 quarters of their fight with Fort Recovery, Minster improvised with nearly flawless defense and remarkable free throw shooting to pick up their sixth MAC triumph of the year with a 43-34 victory.
"We desperately needed a win on the road," Minster coach Nann Stechschulte said. "All of our losses this season have been on the road, and we knew we were coming here to face a very good team. So it is great to get out with a win."
The Wildcats broke open a tight game in the early minutes with a pair of three-pointers from seniors Mariah McKenzie and Taylor Trego to grab a 14-8 commanding lead into the second quarter. Fort Recovery senior Tori Lennartz ignited the second period with a long ball to cut her team's deficit to three, only to have Minster's Hannah Schmitmeyer connect on a jumper from inside the paint to push the visitors back in charge by five points. The Indians responded quickly with another three-pointer from Lennartz and a pair of tosses from the charity stripe by Whitney Will, to tie the score at 16-all. The race was on for the remainder of the half and the two teams headed to the locker room with the scoreboard knotted at 22 points.
"I thought we played alright in the first half. Well enough to stay in the game, but not well enough to win it at that point," Fort Recovery coach Brian Patch said. "We had too many defensive breakdowns on our rotations, but the score was still close so we felt it was only a matter of a few adjustments at halftime."
Fort Recovery opened the third quarter with a free throw from Kendra Siefring and a rebound and a putback from Grace Thien to put their team in charge 25-22, but the run didn't faze the Wildcats as they answered with a 9-0 spurt. Fort Recovery closed the period with the final three points, and with three quarters in the books, the Wildcats were in charge 31-28.
"I think I tried about every offense that I could tonight," Stechschulte said. "They took that lead on us and we managed to get a few baskets off of turnovers and I think that really relaxed us. We didn't want Tori Lennartz to get on a roll, but I think she had ten points at halftime. We rotated in on her in the second half and the girls did a great job of keeping her contained the rest of the way."
Just when it seemed as if it would be a sprint to the finish, both teams' offensive production took a nosedive. It wasn't until 2:55 remained in the battle that Minster's Logan Arnold hit a pair of free throws, which were followed over the next two minutes by free throws from Wuebker and Rosie Westerbeck to give the Wildcats a 36-28 command. Fort Recovery finally broke their scoring drought at the 54-second mark when Whitney Will nailed a bucket underneath and drew the foul. She sunk the free throw to pull her team to within five. Forced to foul, Fort Recovery put Minster's Mariah McKenzie at the charity stripe and she connected on both shots, but a lane violation nullified the second bucket and Minster maintained the 37-31 lead. Things became interesting when Grace Thien bombed a three-ball from the corner to pull the Indians to within three, but Minster responded with six straight charity tosses to secure the nine-point victory.
"We seemed to self-destruct in the second half," Patch said. "Minster is a very good team, but we stopped moving the basketball and stopped playing together. We also missed some important free throws down the stretch while Minster hit theirs. I also think we had more turnovers than we did shot attempts in the second half and that makes it very difficult to beat a good team like Minster."
Grace Thien and Tori Lennartz paced the Indians with 11 points apiece, while Minster's Logan Arnold chipped in 11 for the Wildcats as well.
Both teams are back in action Saturday when Minster (12-5, 6-2 MAC) travels to Arlington and Fort Recovery (12-5, 3-4 MAC) hosts Mississinawa Valley.