Tuesday, February 10th, 2015
MAC swimmers have big evening
Borgerding, McGowan, Stone among big winners
By Colin Foster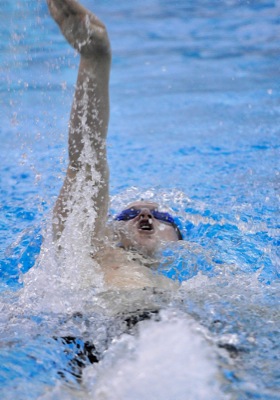 PORTLAND, Ind. - Nikki Borgerding opted for Minster's school lunch on Monday instead of her usual pre-race meal at Subway leading up to the Cavalier Invitational.
The senior enjoyed a rib sandwich, french fries, apple sauce, a brownie and milk, but that didn't slow her down or stop her from feasting on the competition once she hit the pool at dinner time.
Borgerding, her schoolmate Pierce McGowan and Fort Recovery's Cori Stone all had big individual performances at Jay County High School, site of the unofficial Midwest Athletic Conference meet.
But the deep and talented Versailles Tiger teams came through with the sweep of the team titles. The boys won with a score of 190 and the girls tallied 166 to edge the Fort Recovery Indians, who finished with 125 points.
Borgerding had a record-breaking night - breaking her own two records at the meet in the individual medley and the 100-yard breaststroke. She also swam a leg on the runner-up 200 freestyle relay team.
Borgerding's time of 2:16.39 in the IM blasted her old record by more than five seconds. Her time of 1:10.43 in the breaststroke was fractions of a second better than her previous meet mark of 1:10.72.
"It was a pretty good meet," Borgerding said. "I got my own two records in the IM and the breast. I was happy with that."
"Nikki swam really good for right now," said Wildcat coach Laurissa Dalrymple of multi-year state-qualifying swimmer. "They're not her PRs, but she's definitely gearing up.
"Where she's at this point in the season is actually ahead of where she was in the past. We're really optimistic she's going to have some really good times in the next couple weeks."
The future Wright State Raider swimmer wasn't the only one to break records, though.
Cori Stone set a new meet record of 1:03.16 in the 100 butterfly, breaking the previous record of 1:03.34 held by Versailles' Bailey Marshal. The junior also captured gold in the 500 freestyle (5:53.90) and helped the 200 medley relay and 400 freestyle relay teams to titles.
After her win in the 500 freestyle, Stone said her season to this point has been "okay." Her performance on Monday was better than okay, though - it was great.
"My season's been okay, but to come here and take time off both my events, swim first and break the MAC record in the 100 fly. It's more than I could ask for. It's awesome," Stone said.
"It was really good for her to get the best time at this meet six days before we hit sectionals," Fort Recovery coach Mindy Bubp said. "I was really happy for her."
Cori Stone and three freshmen - Carley Stone, Sophie Timmerman and Alexis Bubp - teamed to win the girls 200 medley relay (1:56.69).
"(The 1:56.69) is three seconds better than we've swam it all year, so I think that sets us up very well for sectionals," Mindy Bubp said.
The Indian coach was also happy with the second-place overall result in the girls standings. They jumped three spots from last year's finish.
"I'm ecstatic with that," she said. "Last year, we placed fifth and I think we scored 30 points.
"I'm very excited the way this team is performing."
McGowan, a junior from Minster, won the 200 freestyle (2:03.94) for the second year in a row and captured the 50 freestyle championship with a time of 24.07 seconds. He also helped the Wildcat 200-freestyle and 200-medley relay teams to victory.
"I kind of expected (to win) the 200 free because I had a large lead in the seed times," he said. "Then I swam pretty good in the 50 free and it was good enough to win."
"Pierce has learned that he's actually a really good swimmer this year," Dalrymple said. "It took him a while to figure it out and it's just so exciting, because he's so diverse. He's going to swim the IM next week and the 100 instead of the free.
"This year's been huge for him. He's gone from being mediocre to one of the top swimmers."
GIRLS
New Bremen's team (Stephanie Brandt, Julia Niekamp, Devon Heitkamp and Makenna Brackman) took third in the 200 medley relay (2:01.59). That same Cardinal group placed third in the 200 freestyle relay as well with a time of 1:49.28.
Minster's Cassie Jutte, Clarie and Nikki Borgerding and Carly Barhorst finished second overall in the 200-freestyle relay (1:49.28), while Versailles captured gold with a 1:42.78. Minster's 400-freestyle relay team of Pilar Slonkosky, Claire Borgerding, Paige Purdy and Bridget McGowan placed third (4:11.72).
Claire Borgerding was victorious in the 200 freestyle (2:09.40). Fort Recovery's Sophie Timmerman took home runner-up honors in the 200 freestyle (2:12.38) and the 100 breaststroke (1:11.88). Claire Borgerding placed third in the 100 freestyle as well with a result of 59.95 seconds.
Fort Recovery's Carley Stone won the 100 backstroke (1:05.83) and finished runner-up to Versailles' Lexi Fliehman (24.89 seconds) in the 50 freestyle with a time of 25.89 seconds. New Bremen's Brandt took bronze in the 50 freestyle (26.45) and second in the 100 backstroke (1:07.69).
Other top girl performers included Fort Recovery's Alexis Bubp (runner-up in the 100 freestyle, 59.62), Minster's Morgan Pohl (second in the 500 freestyle, 6:23.81) and Coldwater's Kierstin Siefring (third in the 100 butterfly, 1:08.82).
"We had PRs across the board," Coldwater coach Janelle Miller said. "If they were not PRs, they were very, very close. I was extremely happy with tonight's performance."
Minster's girls placed third overall in the team standings with 107 points, New Bremen took fourth (67), Coldwater placed fifth (49) and Marion Local sixth (four).
BOYS
Minster's 200-medley relay team of Aaron Kitzmiller, Max Pelletier, Seth Koenig and McGowan were champs with a time of 1:53.16, edging the Versailles Tigers, who finished with a 1:53.52. The New Bremen team of Lucas Heitkamp, Ezra Ferguson, Sam Wisvari and Samuel Rutschilling finished third (2:03.69).
McGowan, Aaron Kitzmiller, Pelletier and Koenig won the 200 freestyle relay with a time of 1:38.91. Versailles took runner-up honors (1:39.48) and New Bremen's same group from the 200 medley relay placed third (1:47.85).
Coldwater sophomore Caleb Keck, who was feeling a bit under the weather as his coach pointed out, managed two second-place finishes, one in the 100 butterfly (1:02.56) and the other in the 50 freestyle (24.30 seconds).
"Considering how he was feeling and time-wise where he was at today, I'll take it," Coach Miller said, "and hopefully he'll come back feeling better and ready to go for sectionals."
New Bremen's Wisvari was the individual champion in the IM with a time of 2:26.96. The 100 backstroke saw two local boys in the top three, with Minster's Aaron Kitzmiller winning (1:04.14) and Marion's Nathan Saintignon taking third (1:14.78).
Bremen's Rutschilling was the third-highest placer in the 200 freestyle (2:24.84). Minster's Seth Koenig took second place in the 100 freestyle (57.78 seconds) and Marion Local's Chris Lochtefeld was third (57.78). The Tigers Quincy Baltes was sandwiched in-between them in second (1:05.66).
The 400 freestyle relay, the final event of the night, was won by Versailles with a time of 4:01.82. New Bremen's team of Vince Wilson, Noah Parlett, Brad Rammel and Lucas Heitkamp were runner-ups (4:37.70).
Other top boy performers included New Bremen's Noah Parlett (runner-up in the 500 freestyle, 7:16.35), Minster's Max Pelletier (runner-up in the 100 breaststroke, 1:12.10), Fort Recovery's Mackinley Timmerman (third in the 100 breaststroke, 1:15.35).
Minster took runner-up honors in the team standings with 95 points. Marion Local was third (77), New Bremen fourth (75), Coldwater (Keck was the only swimmer) fifth (14) and Fort Recovery sixth with 11.