Friday, April 3rd, 2015
Grand Lake condo-resort still in works
By William Kincaid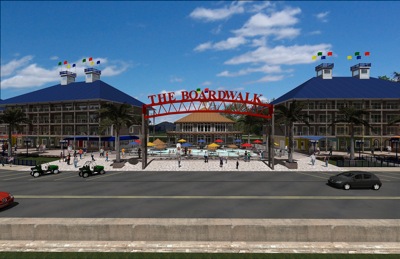 CELINA - Planning for a condominium/hotel-style resort has dragged on longer than expected, but the developers say they will soon launch a sales campaign for The Boardwalk.
William and James Edmonds of Lakefront Maritime Developers of Mansfield on Thursday also revealed they have brought on board Bill Simms of HBS Development of Dayton, who recently completed Pirates Cove on Indian Lake, a 92-condominium project.
The Edmonds had initially planned to open the project's first phase by last summer but complications with the Ohio Department of Natural Resources delayed the process, they say.
"What's most important is the success of this project," James Edmonds said. "It seems like the planning is taking quite a bit of time - and it definitely has - but we're setting up a business for this entire thing, making sure all the numbers work out."
They haven't set a firm groundbreaking date but intend to submit a site plan to the city in the coming days.
"One of the holdups we had is the Ohio Department of Natural Resources had us do an extensive study," William Edmonds said.
The developers drilled to test the soil composition of the site along West Bank Road and performed an environmental study.
"They're analyzing the strength of the soil, first for the buildings, to support the buildings, and they're analyzing to make sure there were no leaks in the dam," he said. "We have to submit all these engineering findings to the ODNR."
The Boardwalk's plans include four condominium-hotel buildings with a total of 150 units, two resort-style swimming pools, retail space for offices, general retail and restaurants and a conference area.
According to the Edmonds, the condominium-hotels may be a profit-sharing venture. The 330- to 600-square-foot units - with starting prices in the $80,000 range - will be operated as condominiums when the owners stay there. When the owners are away, the units could be rented like hotel rooms generating income for the condo owners.
"It's a major departure from time-share," Edmonds said.
"It gives an opportunity to own a piece of property that's going to generate cash-flow for you ... and also allow you to use it for two weeks a year, if you want," Simms added.
The first phase is to include a new Big Bamboo's Dockside Grill and one condominium/hotel building. The developers intend to use local contractors, such as Consolidated Hunter, Koester Electric and Access Engineering Solutions.
"Dockside Grill will be a two-story bar and restaurant with room in the upstairs for events, including a pool and swim-up bar facing the west shore of Grand Lake," a project summary states.
The father-son developers envision the resort as a vacation getaway - condominium owners will be assured a place to stay while enjoying lake activities such as the Governor's Cup Regatta, while potentially earning profits when their units are rented.
"It's going to double the amount of people coming here, at least," William Edmonds said.
Simms noted it will be the perfect way for families in cities to get away for a weekend with their children.
"This is a major cog in the wheel to work with things that are already going on in Celina," Simms said.
Simms said it's a shame more people in big cities don't know about Grand Lake and Indian Lake. Grand Lake is turning around but it's going to take publicity to attract people here, he said.
"I don't think it's a question about the lake's health in the long run, I think it's more a question about convincing people," he said.
James Edmonds agrees.
"Not enough people actually know about the lake itself, and I think that's got to be our push - making people in Dayton and Fort Wayne and Columbus and Cincinnati aware of these ... assets that we have in Ohio," he said.
According to the Edmonds, 8 million people live within a 100-mile radius of the site, making it an ideal spot for the project. Vacationers today are willing to drive one and a half to two hours for recreation, they said.
"It's not so much what Celina can do for us but what we can do for Celina," Simms added.