Tuesday, January 26th, 2016
Shooting lifts St. Marys over St. Henry
By Gary R. Rasberry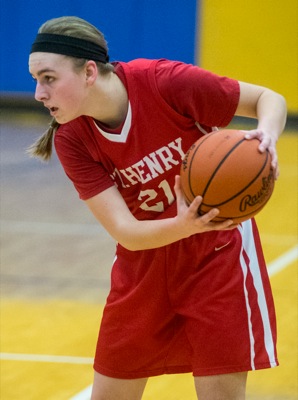 ST. MARYS - After struggling in the second half of Saturday's loss to Fort Recovery, St. Marys looked to rebound Monday night against a St. Henry squad looking to get a spark heading into the postseason.
An 8-0 run in the first quarter put the Roughriders into the lead for good and both teams cranked up the offense in the second half as St. Marys beat the Redskins 67-56 in girls basketball action at Murotech Court.
For the first half of the first quarter, the teams played evenly. The momentum changed when Quincy Rable scored with 4:06 left in the quarter to put the Roughriders up 9-7 and trigger the big run. Shania Taylor followed with a three-point play to make it 12-7 and then Sydney Cisco hit an NBA-range three-pointer to make it 15-7. Jacey King hit a free throw with 2 1/2 minutes to go to stop the run.
"I tell the girls our shots can be off, but we can play defense. Defense is where it needs to be," St. Marys coach Nikki Miars said. "We'll make adjustments this week before we play Celina."
"We lost the first quarter by seven and the second quarter by eight. It was tough to recover from that," St. Henry coach Kurt Huelsman said.
The scoring charge continued through the second quarter as Sydney Cisco and Rable kept up their scoring. Ellie Stammen tried to keep the Redskins close but St. Marys went into the halftime break up 35-20 thanks to shooting 58 percent from the floor (14-of-24).
The second half was much better offensively for both teams. St. Marys, which was held to three points for most of the second half against Fort Recovery, came out on fire. Taylor, Rable and Erika Angstmann, who was held scoreless in the first half, were scoring consistently for St. Marys.
"Our inside-out (offense) was on tonight," said Miars, whose team shot 55.8 percent from the field for the game. "Shania did a good job going up when she was open. Erika, Lindi (Cisco) and Syd were hitting them (three-pointers). That helps when the shots are falling. The past couple of games, they weren't falling. That was nice."
Meanwhile, St. Henry, which shot just above 33 percent in the first half from the field, also began to shoot much better and finished the game shooting 41.5 percent (22-of-53) from the field.
"I'm happy with how the girls responded," Huelsman said. "We were down 18 at one point and our girls kept clawing and fighting. We won the second half (36-32), but we didn't get enough (shots to) fall to win."
"(St. Henry) came out and shot lights-out in the second half," Miars said. "We were able to adjust and come away with the win."
Rable finished with a game-high 19 points for St. Marys. Taylor recorded a double-double with 15 points and 10 rebounds. Sydney Cisco scored 12 and Angstmann finished with 11.
Alexis Ontrop paced St. Henry with 15 points. Stammen scored 12 and King had 10 points and 10 rebounds.
Both teams return to action on Thursday. St. Marys travels to Celina for the Battle of Grand Lake and St. Henry returns to Redskin Gymnasium to face New Bremen.