Wednesday, March 16th, 2016
Gelhaus, Cardinals gain 'elite' status
By Colin Foster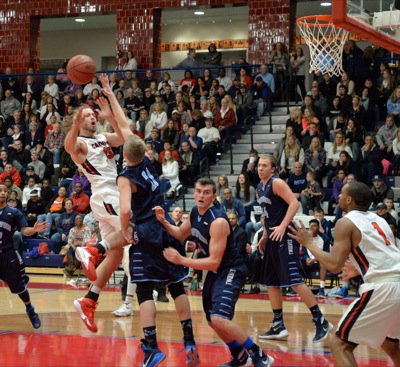 It's been a sweet season to this point for Fort Recovery alum Wade Gelhaus and the Saginaw Valley State University men's basketball team.
It went from sweet to elite on Tuesday night.
The Cardinals punched their ticket to the NCAA Division II Elite Eight with a 63-61 victory over Ferris State in Tuesday's Midwest regional championship at Tarble Arena in Kenosha, Wis.
Over the weekend, the fifth-seeded Cardinals had earned their spot in the Sweet 16 with a pair of dominant wins over fourth-seeded Lewis, 80-65, and top-seeded Wisconsin-Parkside, 92-77. Gelhaus, a junior, made his presence known in both wins. He posted five points, five rebounds and two assists in 15 minutes of action against Lewis. In Sunday's meeting with Parkside, Gelhaus shot 7-for-10 from the floor for a season-high 18 points and added six rebounds.
"We had about 10-11 days off between our loss in our conference tournament game to our first NCAA Tournament game," explained Gelhaus, "and that gave us a lot of time to recover mentally and physically and get our minds right and get ready for the NCAA Tournament. I think we took a big step in focusing and getting better each and every day during that time.
"We just got back to our basics," he added. "We stopped over-complicating things, got the ball inside. Our best game is working inside-out."
The Cardinals had already beaten Ferris State twice this season in Great Lakes Intercollegiate Athletic Conference play. They beat the Bulldogs, 74-72, on the road and won the second, 88-79, in University Center, Mich. Again, it wasn't easy on Tuesday.
Saginaw had to rally back from an eight-point deficit at the beginning of the second half and overcame a 34 percent shooting night to defeat Ferris State for the third time this season. Gelhaus played 10 minutes and tallied two rebounds in the victory.
This is Saginaw's first trip to the tournament since joining the Division II level. The Cardinals claimed their first GLIAC regular-season title since 1984-1985 and received an NCAA at-large bid.
"We're all pretty honored to be Cardinals and to get the regular season GLIAC championship and to get this far in the NCAA Tournament," Gelhaus said. "I think that says a lot about the seniors on this team. They're on us every single day. The coaches get after us. We don't necessarily like it, but it actually pays off for us in the long run. We're a pretty veteran group. We've had the same starters for the past three years and we're kind of building off of my first year at the university. ... We were 9-17. It was pretty rough. We've come a long way and we've done it together."
Gelhaus and SVSU's run hasn't gone unnoticed in Fort Recovery, either. Former coaches Brian Patch and Jeff Vaughn have tweeted their support for the team, as have Bob Staugler and countless others from Fort Recovery.
"I'm blessed to have as many followers as I have," Gelhaus said. "I grew up in a pretty friendly, family-oriented town. It's just an honor to have coach (Brian) Patch, coach (Jeff) Vaughn and all my other assistants give me support and have my back. For them to be able to follow me through my career, it's been great to have them by my side."
Saginaw Valley faces Augustana (S.D.) next Wednesday in Frisco, Tex. Top-seeded Augustana (31-2) advanced with an 80-78 win over Northwest Missouri State University in the Central Regional final in Sioux Falls.