Friday, April 29th, 2016
Giving sight to the blind
Celina Rotarian's trip to Costa Rica an eye-opening event
By William Kincaid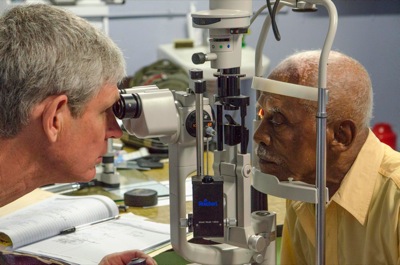 COSTA RICA - Celina Rotarians and other local volunteers recently procured miracles for 65 poor people living in Nicoya, Costa Rica - the gift of sight.
The Rotary club sent 13 people to the city and paid for the bulk of costs to have Dr. John Pajka of Lima and a team of assistants perform cataract surgery on dozens of people in need. The Rotary clubs of St. Marys, Wapakoneta and New Bremen/New Knoxville also chipped in for the medical mission.
"We literally were making the blind see," said Celina Rotarian and doctor Paul Wilken, who aided in the surgeries.
The surgeries also helped ease the everyday burdens of the patients' families.
"We are taking nonproductive mouths that need to be fed by their families and making them productive people by giving them their sight back," he said
The mission, organized largely by Celina Rotarian Chuck Stammen, took place March 20-26. The volunteers, Stammen said, had three goals: help people see again, build goodwill and friendship and set the stage for future cataract surgeries.
All were achieved and Rotarians plan next year to dispatch two ophthalmologists to complete even more surgeries, Stammen said.
Volunteers stayed at Stammen's house located along the Guanacaste Peninsula in northwest Costa Rica. They made an hour drive each morning to a Nicoya hospital to assist with the surgeries. Although many of the patients didn't have cars, they found a way to make it early each morning, Stammen added.
"We did (65) cataract surgeries in three days," Celina Rotarian Deb Borns said. "The first patient we did was 99 years old."
"These people are clean," Borns continued. "They take care of their parents, their children. For no more than they have, they were proud people."
Costa Rica, Wilken said, is a blue zone - an area where people live much longer than elsewhere in the world, due, in part, to low stress and diet.
"That area right there is the top three in the world of the longest living people," Stammen added.
With longer lifespans comes the likelihood of ailments and illnesses.
"(The hospital) has a backlog of 600 cataract patients," Stammen said.
A cataract occurs when the eye's lens becomes cloudy and dark, Wilken explained. Wilken administered medication to dilate an eye before surgery. Just like in the United States, surgery is only done on one cataract at a time, he said.
"If we can't see in, she can't see out either," Wilken said of one patient.
One of the cataracts, Stammen noted, was as large as an M&M.
"These guys are outside so much, (exposed to) ultraviolet light - that's why everybody should wear sunglasses," Wilken said. "It just develops over time and the entire lens of the eye gets dark."
Already his fourth overseas mission this year, Pajka and his team of surgical assistants used micro-tools to vacuum out the cataract from each damaged eye, Wilken said.
"Two little incisions are made on either side of the colored part of the eye," he said, noting no stitches had to be used. "An implant, a contact lens is injected into the eye and it opens in the eye to replace the power of the lens in the inside of the eye."
The surgeries typically lasted 30 minutes. Use of a nerve block resulted in a mostly painless procedure, Wilken said.
"They are so stoic," Celina Rotarian Julie Fleck said. "They would lay there and they wouldn't move. They wouldn't say anything."
Pajka used a sterilizer brought down by Rotarians to sanitize the medical equipment in 9 minutes, allowing for a swift procession of surgeries. The sterilizer, valued at $7,000, was donated by Midmark Corp., Stammen said.
"And we left it there," he said. "(The hospital staff) were very, very happy."
Choosing to do cataract surgeries was the best way for Rotarians to improve the lives of as many people as possible, members said.
"This was a hell of a lot of work to put together," Wilken said, praising Stammen for organizing the trip, which included a lot of paperwork and authorization from Costa Rican officials.