Tuesday, July 12th, 2016
Crash began with pursuit by police
By Jared Mauch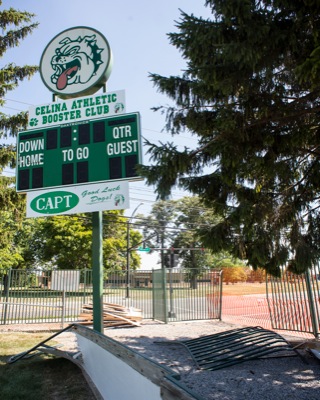 CELINA - The Sunday morning crash that injured three boys and a girl began as a police pursuit near Walmart.
Three of the four juvenile occupants of a pickup truck were taken by CareFlight or LifeFlight after a single-vehicle accident at about 5 a.m. on Sunday.
All four occupants were transported to either Mercer County Community Hospital, Coldwater, or Joint Township Memorial Hospital, St. Marys, before three were transported by helicopter to other hospitals, according to a Celina police news release issued late Monday morning.
The juveniles reportedly were traveling in a green, compact pickup truck westbound on Wayne Street at a high rate of speed when the truck struck something, causing the rear end to fly into the air. The vehicle continued southwest at the intersection of Wayne Street and Fountain Avenue and traveled through a fence around the Celina High School football stadium, struck a ticket booth, a scoreboard post and a fence surrounding the field, according to the release.
Officers followed the vehicle and found one occupant had been ejected and another was trapped inside. Police reportedly provided medical aid to the occupants until Celina fire and EMS personnel arrived and the victims were transported to the local hospitals.
CareFlight and LifeFlight were later called to the hospitals for three of the four individuals.
Police are not releasing the names of those involved because they are juveniles. An investigation is ongoing, Celina Police Assistant Chief Dan Harting said this morning.
Two Celina police officers witnessed the pickup squeal its tires and leave the Walmart parking lot on Havemann Road. The officers reportedly got into their vehicles to pursue.
A third officer was eastbound on Havemann Road and turned westbound after having seen the pickup pass him. The officer reportedly witnessed the pickup turn westbound onto Wayne Street without first stopping at the stop sign.
At that time the officer activated lights and sirens to stop the vehicle. The truck continued at a high rate of speed and the officer stopped following the vehicle at Cumberland Drive due to concerns for public safety and the safety of those in the pickup, according to the news release.
Personnel from the Celina Fire/EMS, the Mercer County Sheriff's Office and that office's accident reconstruction team were called to the scene.