Saturday, November 12th, 2016
Flyers survive tough challenge from Skins
Marion Local faces Mechanicsburg in regional final
By Colin Foster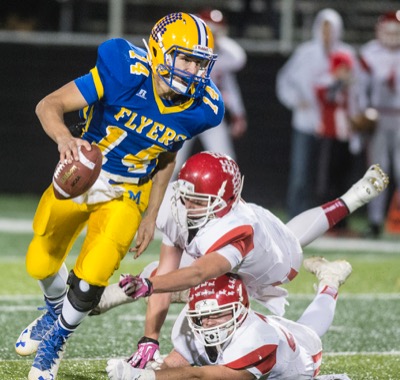 SIDNEY - Marion Local anticipated a tough challenge from St. Henry in Friday night's Division VI regional semifinal.
And the Flyers got one.
In the end, defense and Duane Leugers lifted the top-ranked Flyers to a 22-0 victory at Sidney Memorial Stadium/ 30-0 Field and put them back in the regional final where, for the second consecutive season, they'll meet state-ranked Mechanicsburg.
The score on Friday, much like the score from their Week Nine matchup in Maria Stein, wasn't indicative of how close the game actually was. Marion Local, which twice had Nate Moeller touchdown runs taken away by penalties in the second half, led 7-0 early in the fourth quarter. St. Henry was a one big play from tying the game, but the Marion Local defense didn't allow it - not against an opponent that was down to its second string quarterback after an injury knocked out starter Daylon Lange in the first quarter.
The big play by the Marion Local defense came minutes into the fourth quarter when Matt Kahlig intercepted Nathan Lefeld to put the ball at the Redskin 46. On Marion's following play, Leugers shot around the outside for a 36-yard gain. Two plays later, Leugers' six-yard TD run with 7:52 left finally shut the door on St. Henry.
"They just brought the house," Marion Local coach Tim Goodwin said. "There's give and take. We shot ourselves in the foot in the red zone a lot, especially in the third quarter. But that's how it goes. It's kind of feast or famine when they're doing stuff like that. We hit some things. We had other plays we didn't make.
"I'll give St. Henry credit, after losing (Lange) on the first play ... they played hard. They really did."
Matt Rethman's 25-yard touchdown run with 3:09 remaining was the icing-on-the-cake score in a game that was dominated by Marion Local from a yardage standpoint. The Flyers held a 439-142 lead in total yards as the Redskins became their sixth shut out victim in the last seven games.
"We knew going in how good they were on defense," St. Henry coach Brad Luthman said. "I thought we ran some things that gave them some issues. But yeah, they're still well-coached and they've got a lot of really good players."
Marion Local marched inside the St. Henry territory on 11 plays to open the game, but a fumble by Jack Homan was recovered by St. Henry's Zach Niekamp at the 20-yard line.
On the Redskins' first play, Lange - who had also been knocked out of the first meeting with Marion Local - avoided the initial pressure and connected with Collin Mescher for a gain of 30 yards. Lange was injured on the play and did not return. Blake Hoyng, running out of the Wildcat formation, gave St. Henry another first down with three straight runs, but Marion Local soon forced the first of seven punts in the game.
Leugers had 49 yards rushing and 25 yards passing to lead a 10-play, 93-yard drive. Marion faced a third-and-long from inside its own territory when Leugers took a QB draw 17 yards for a first down. A few plays later, Leugers dashed for a 31-yard gain into Redskin territory. Marion later faced a third-and-nine from the 45 when Leugers found a wide open Moeller in the middle of the field for a gain of 26 yards. Moeller added a 17-yard pickup after a fumble to set up a one-yard Leugers' touchdown run with 11:48 to go in the second quarter - which stood until the fourth quarter.
"Honestly, we felt pretty good because we felt like they had some bounces go their way," Luthman said. "No. 1) Losing Daylon. No. 2) One of their big plays right before their score was a fumble and it bounced off the turf right back to them and they pitched it. So we felt pretty good. We thought 'Man, we can't have much of a worse half than that.' We just couldn't get it together in the second half."
The Flyers almost delivered the knockout blow early in the second half.
Jack Homan picked off a Lefeld pass on the third play of the third quarter to give his team the ball just outside the red zone. Ryan Thobe nearly got in the end zone on Marion's first play, taking Leugers' dump pass to the flats for a gain of 24. But consecutive penalties by the Blue and Gold made it first-and-goal from the 11, and they gained three yards over the next three plays. Tyler Mescher missed wide right on a 25-yard field goal attempt.
Midway through the third quarter, Moeller had a 25-yard touchdown run taken away due to a holding penalty. The Redskins then forced a punt - and were a Cole Unrast tackle away from tying the score on their following series.
Lefeld hit Tyler Schlarman on a backside screen pass for a gain of 43 yards. Unrast made a touchdown-saving tackle on Schlarman near midfield, and the Flyers forced a punt after three failed plays.
Marion was again inside St. Henry territory on its next series, but Schlarman deflected Leugers' pass attempt on a fourth-and-two from the 26.
Two plays into St. Henry's next series, Kahlig intercepted Lefeld, and then Leugers - who passed for 173 yards and rushed for 92 - took care of the rest.
"Duane played really well," Goodwin said. "He didn't have a lot of help some of those times. We'll have to see on the film what was going on with the blocking, but he played well. He's a good, good football player."
Lefeld went 7-of-17 for 72 yards with two interceptions. Schlarman had four catches for 62 yards for the Redskins, who finish the season 8-4.
"Nate Lefeld started the first two games this season and then had to take a really tough demotion," Luthman said. "But he's been a consummate team player and he came right back out here and honestly gave us a chance to win. The seniors rallied around him. They played their butts off, played great, great defense. We just came up a couple plays short."
Jack Homan added 87 yards on 16 carries for a Marion ground game that tallied 266 yards on the day. Thobe had five catches for 67 yards and Kahlig totaled three receptions for 67 yards.
The site of next week's Marion-Mechanicsburg game will be announced by the OHSAA on Sunday. Mechanicsburg defeated Delphos Jefferson 56-20 on Friday. Marion Local was the last team to hand Mechanicsburg a loss, winning 9-7 in the 2015 regional final.
"It will be a heck of a matchup," Goodwin said. "In the back of our mind, we kind of thought this was going to happen. We'll prepare and show up and play hard."