Wednesday, January 25th, 2017
Bulldogs get sweep
Celina beats Kenton and Lehman in tri-match
By Gary R. Rasberry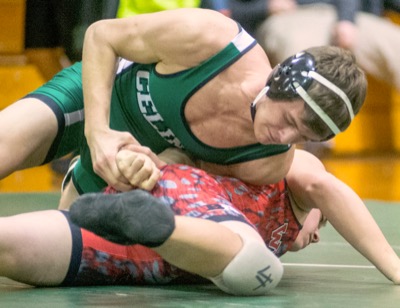 CELINA - The Celina wrestling team wrapped its dual/tri-meet portion of the schedule with a sweep of Kenton and Lehman on Tuesday night at the high school gymnasium.
The 63-18 win over Kenton in the opener was big as it allowed the Bulldogs to finish Western Buckeye League dual match action at 4-5, something that coach James Miracle called "baby steps" after the team had gone 3-6 last year in duals and 2-7 two years ago.
"We've got the big picture in mind," Miracle said. "It's getting better every year. "Coming into this year, I really thought we'd be 5-4 or 6-3. We lost to Bath right (at the start of the season). St. Marys beat Bath and we beat St. Marys. That first week of the season kids weren't in the right weight classes and didn't match up well."
The Bulldogs were impressive against the Wildcats. Joe Warner (106 pounds), Chris Mir (132 pounds), Nick Garwood (160 pounds) and Logan Muhlenkamp (170 pounds) all scored pinfall victories. Austin Hines won via technical fall (21-6) after moving up to wrestle at 152 pounds, and Logan Keiser won his bout at 126 pounds via major decision (eight or more points).
After Kenton beat Lehman 36-24 to earn a split for their evening, Celina faced the Cavaliers to finish the night. With Lehman only having seven wrestlers, Celina was in strong position to get the win. Hines and Warner were joined by Nick Garwood (152 pounds) in scoring pinfall wins.
"They wrestled well against Kenton," Miracle said. "We knew we would beat Lehman because they had seven kills, but it was nice to get another team in here because we are wrestling a lot of freshmen (Seven freshmen were in the lineup against Kenton)."
The Bulldogs are back in action tonight in the opening round of the state duals tournament. Celina travels to Valley View to face Greenville in an opening match.
On Saturday, Celina hosts the Lions Invitational at the Fieldhouse. Fifteen teams will compete in the all-day tournament.