Monday, June 26th, 2017
Students organize cancer concert for principal
By William Kincaid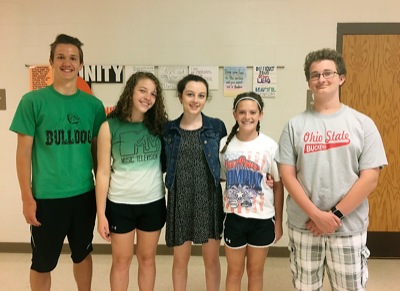 CELINA - A group of incoming freshmen are using an eighth-grade language arts class project to host a concert celebrating their classmates' talents while raising money to fight cancer.
The Concert for Cancer set for 6:30 p.m. Friday in the Celina Middle School gymnasium will honor middle school principal Ann Esselstein, who is battling cancer, according to the students - Mitchell Weitz, Kennady Murlin, Emma Menchhofer, Nicole Warnement and Aidan Schmidt.
"I was just trying to think of what I could do to help someone in our community, and we had a whole bunch of things going on for the Relay for Life at our school and I just thought, 'What if we could use the musical talent in our school and put on a concert in honor of (Esselstein) to try to inspire everyone," Menchhofer said.
Esselstein takes great pleasure in watching her students perform, Warnement noted.
"We've had talent shows and she always enjoys watching her students with the music," she said. "We thought maybe (we) could do a separate event with those same students and others that would volunteer to do it and perform for her."
Esselstein is also the sole reason for the show, they said.
"As such an influential person in the lives of all who come in contact with her, her diagnosis last year shocked our community and inspired us to make a difference in her life and the lives of so many others," the students wrote on their website.
The group pulled together a lineup that will feature their classmates and a few adults who will showcase their talents for the audience.
"Most of them are soloists," Menchhofer said. "There's at least one that is a duet kind of thing. There's some singers. I myself am singing with a guitarist."
"They were pretty willing to help us for this," Schmidt said.
The students said they hope to boost community support and joy through their show.
"There will be music, food, people and other small events around the school all for support against cancer," the students wrote on their website, www.concertforcancer2017.org/.
Admission is $5. Donations will be accepted near the entrance of the gymnasium. All proceeds will go to the American Cancer Society.
The students came up with the idea in their language arts class. Teacher Lora Darras assigned the students a "20 percent time project," in which they spent 20 percent of classroom time each week in the fourth quarter working on an initiative to help the community, the students said.
"We came together to form this concert," Schmidt said.
Though the 14-year-olds all worked together to put on and promote the concert, each student specialized in a certain area. Warnement and Menchhofer were the coordinators while Weitz and Schmidt built the website. Murlin served as the music coordinator.