Friday, September 8th, 2017
Still growing
Ferguson breaks ground for new $15M pipe yard
By William Kincaid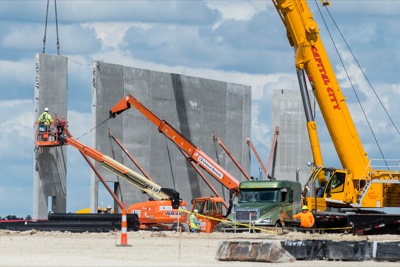 CELINA - Ferguson company officials on Thursday afternoon ceremonially broke ground on a new pipe yard operation next to the company's distribution center at State Route 29 and Harris Road.
The plumbing supply giant chose to expand again in Mercer County and is investing $15 million in the project that will create 36 full-time jobs, Ferguson construction manager Bob Feller said.
Numerous company and local officials, including county commissioners and county community development director Jared Ebbing, took part in Thursday's ceremony, which was a bit belated as concrete walls were already being erected in the background.
"It's kind of a wall-raising ceremony as much a groundbreaking ceremony," Ebbing said. "The flurry of activity over the last month has just been amazing. They want to get this thing going."
Feller said Ebbing's assistance was a major factor in Ferguson's decision to broaden its footprint in Mercer County.
"The community itself had a lot to do with it, but honestly, all of the contributions that Jared has put in - the due diligence, the background work - everything that he has done, including the expanding of Albers Road, has really helped us make our decision," Feller said.
BE&K Building Group of Greenville, South Carolina, is the primary contractor, Feller said.
The 160,000-square-foot building should be up by early November, but much interior work will be completed over the winter as officials hope to launch operations in mid-March, Feller pointed out. The facility will also have a roughly 6-acre paved pipe yard.
"It will be a pipe distribution center for Ferguson and a pipe-fabrication facility," Feller explained.
Jacob Tull of Ferguson Enterprises distribution center said the new operation will supply pipes to 110 Ferguson branches over five states. It also will provide job opportunities, he noted.
"We're just ecstatic," Ebbing said. "They could have chosen to do this anywhere."
County and state officials are funding road and utility improvements to accommodate the expansion with the state covering as much as 75 precent of the cost.
"It's a team approach - at the county level, at the state level, at the company level," Ebbing said. "And the only way to make projects like this happen is to have that team approach all the way through."
County officials put up $350,000 in seed money - $200,000 from its revolving loan fund account and $150,000 in conveyance fees - to land a $575,000 629 Roadway Development grant from the Ohio Development Services Agency.
Shinn Brothers was awarded a $540,000 contract by county commissioners to extend Albers Road 3,000 feet east to the proposed site of the new pipe yard. The work must be done by Oct. 15.
"We will extend Albers Road all the way down to just short of ... Four Turkey Road," Ebbing said recently. "They'll build a new building pretty much right on top of Four Turkey Road, and we'll propose to vacate Four Turkey Road, and that will be the new operation."
The expanded road will not only meet the needs of Ferguson but also open up the State Route 29 area for future development, helping it transition from an agricultural corridor to industrial, Ebbing has said.
Shinn Brothers, awarded a second $152,700 contract by commissioners, also will install left and right turn lanes from State Route 29 onto Riley Road heading south.
Ferguson - the largest wholesale supplier of commercial and residential plumbing supplies in the U.S. - debuted its local distribution center east of Celina in June 2014 with a ribbon-cutting ceremony attended by Gov. John Kasich. The company initially considered 73 possible sites for the facility before choosing the Celina location.
The distribution center was the first built by Ferguson in the Midwest. It serves company branches and customers in surrounding states.
"It's been doing great," Tull said. "So we've been here three-and-a-half years. We expanded in two years and the business has continually grown year over year," he said, pointing out the distribution center has more than 110 employees and should hire more soon.