Saturday, October 7th, 2017
Celina students help kids hurt by hurricane
By Tom Stankard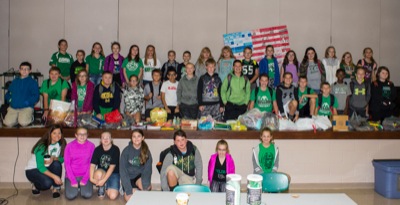 CELINA - After seeing the devastation Hurricane Harvey left behind, Celina Intermediate School fifth-grade teacher Brooke Wellman adopted a Houston, Texas, classroom.
She told principal Derek Wenning and other staff members about the fundraiser she was arranging, and everyone quickly jumped on board.
So too did the community at large.
All week long, students have been donating school supplies for teacher Alexandria Wick's first-graders at Betsy Ross Elementary School.
God was watching Betsy Ross Elementary School because the hurricane only caused minor water damage, Wick said.
However, several of her students lost everything and their families are still rebuilding their lives, she added.
But while in school, Wick explained she wants "students to be able to put their personal lives aside and feel safe while learning."
By giving back, educators are teaching students a valuable life lesson, Wellman said.
"We teach lessons in math, reading writing and the arts every day. But one of the most important things in our job is also to teach our students about the importance of giving back and the importantance of having an impact on other people's lives."
Students so far have been excited about the fundraiser, filling the lunchroom stage with donations, she pointed out
"They feel really good about being a part of the solution," Wellman said.
Sixth-grader Colton Altstaetter said he was surprised by Mother Nature's power.
His classmate, Neveah Dennis, felt compelled to help because her grandmother lives in Houston and the damage in the area was serious.
Her friend Jack Eichler recalled watching a video of a person driving a pickup truck through the floodwaters to rescue people.
"We're fortunate that didn't happen to us," he said.
Students from two other schools are also helping Wick's students. The outpouring of support has been overwhelming, an emotional Wick said.
"When so many people want to help, its a humbling feeling," she said.
Word spread of the Celina fundraiser, and it has become a community-wide initiative. Wellman pointed out local businesses and organizations expressed interest in donating.
Keaten Watson, one of Wellman's students, told her mom, a St. Marys teacher, about the fundraiser, and she also has started collecting donations.
This kind of support shows that "our community can care and help people out," Wenning said.
"I'm very proud of the teacher and students," Wenning said while looking at all the donations.
Students and community members can continue to donate until Oct. 13. Those interested in donating should call the intermediate school at 419-586-8300.
"Even little things can go a long way," he said.