Tuesday, October 17th, 2017
Bulldogs roll
By Gary R. Rasberry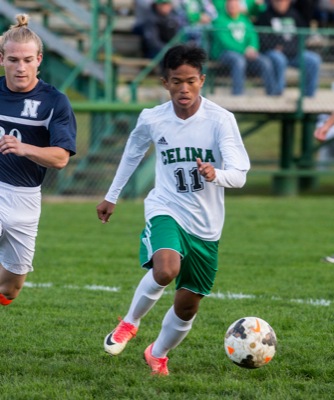 CELINA - In a span of 3 1/2 minutes, Jim Aquino turned an early Celina lead into an easy Celina victory.
The Bulldog junior had three goals to help his team open Division II boys' soccer tournament play with a 5-2 win over Napoleon on Monday night at the soccer stadium.
The win sends Celina (7-8-2) to Kenton on Thursday night for a berth in the district semifinals next week in Elida. Kenton defeated Celina 2-1 in the opening game of Western Buckye League play. The Wildcats end their season at 2-14-1.
Celina coach Ryan Jenkins wanted his team to get out to a fast start against Napoleon, which had had a nearly-two hour bus drive down from Henry County. The team responded with just over five minutes gone in the first half when Kyle Flaute kicked the ball from 30 yards out and past keeper Ben Schumm with 34:46 left in the opening half.
Then it was time for Aquino to shine. With 27:22 left in the half, Cole Cisco passed the ball over to Aquino, who promptly put the ball away to make it 2-0. The second goal came with 26:03 to go. This time it was Josh Kuehne providing the assist with the pass to Aquino. Then with 23:55 to play in the half and after Logan Keiser's attempt was deflected by Schumm, Aquino was right on target with a rebound shot to make the score 4-0.
"We started out really well tonight. We knew (Napoleon) had a long trip to get down here and we wanted to start fast," Jenkins said. "That first 20 minutes, I was pleased how we played."
Celina had an early chance at a fifth goal on a penalty kick, but the goal was waved off due to another Celina player entering the goal box before the kick. Napoleon, which had to play most of the second half a man-down after having a player sent off with a red card, avoided the shutout with a penalty kick of their own from Logan Helmke with 34:09 left in the match. Celina quickly restored the four-goal lead with a goal by Joel Castorena, whose penalty kick goal was waved off. Aaron Bostelman added another goal for the Wildcats with 14 1/2 minutes to play, but Celina's defense held tough down the stretch.
"Defense was okay," Jenkins said. "We'll have to play better against Kenton. They have a lot of speed. We look forward to the rematch with them."
"Napoleon played tough," Jenkins continued. "They didn't quit. They played right to the last whistle. We're pleased to move on."