Thursday, October 19th, 2017
Australian has fond memories of days in Celina
By William Kincaid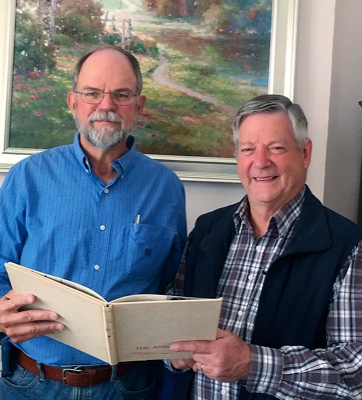 CELINA - Though the landscape of Celina has changed quite a bit over 50 years, with big box stores such as Walmart and Menards popping up, its people have remained much the same, Australian Alan Honeycombe says.
Honeycombe and his wife, Beth, returned to Celina last week to take part in the Celina High School class of 1967's 50th reunion. He stopped by the newspaper to recall his experiences as an exchange student in 1966-1967, when he stayed with the Munson family.
"A lot of things have just stayed the same, and that's just lovely," Honeycombe said about what he described as a friendly and welcoming community.
Honeycombe and his wife stayed with Celina classmate and longtime friend Craig Klopfleisch and his wife, Kay, for a few days. They went to the high school football game on Friday against St. Marys, the class reunion on Saturday night and spent a few days in Holmes County to get the Amish experience.
"That's something we would never have any knowledge of in Australia. There is no Amish community in Australia, so it was really good just to get that experience," he said.
At Saturday night's class reunion, his former classmates wore nametags featuring their pictures from 1967, "so that was really helpful," Honeycombe said. He needed the photos to identify only a few classmates, he added.
"People don't change much," he said, noting facial features, mannerisms and ways of speaking remain consistent. "The extroverts are still extroverts ... the quiet people are still quiet, the thinkers are still thinkers, the academics are still academic."
Honeycombe grew up in Footscray, a Melbourne suburb. After completing high school, he got a job working in a glass-manufacturing factory warehouse before coming to Celina as an exchange student - a senior in the class of 1967.
"I wanted to come to the United States because I just wanted the experience as an exchange student, to experience another culture and hopefully share something of mine," he said. "I was really happy to come to a country town because I only lived in a city of 3 million people."
Honeycombe remembered that year as a very busy time. In addition to school, Honeycombe stayed engaged with a church choir and youth group and accepted many speaking engagements.
"Fantastic. Couldn't have been any more welcoming," Honeycombe said of Celina. "The whole community was unbelievably friendly and welcoming. And I guess I was a bit of a novelty, you know, because they'd never heard an Australian accent before. Crocodile Dundee hadn't come on the scene yet. He was still 20 years away."
Since he had already completed high school in Australia, Honeycombe decided to take different classes at Celina High School, among them a typing course and an American government class.
Asked about the differences between America and Australia, Honeycombe spoke of the "80-20" rule.
"Probably 80 percent of the things were the same, but it's the 20 percent that were different that made life really interesting," he said.
For instance, Honeycombe recalled asking a girl in typing class if he could borrow a "rubber" from her. The girl, a bit aghast at the request, had said she didn't have one, Honeycombe said.
"I said, 'certainly you do. Look, there's one there right on the end of your pencil,' " he said with a hearty laugh.
Klopfleisch admitted his friend "could be a bit ribald" and "is irrepressibly sociable."
Once Honeycombe re-turned to Australia, he eventually became a high school teacher. His experience in Celina proved incredibly useful as his first teaching gig was in a small country town two-and-a-half hours outside of Melbourne, he said.
Today, he works as a psychologist at a community health center and lives in Healesville, an hour outside of Melbourne. He said it's about the size of Celina and sits near the edge of the Great Dividing Range mountains.
Over the years he has maintained his friendship with Klopfleisch.
"If I remember correctly, Alan has been back five times now, Beth three times," Klopfleisch said. "So now we just regularly keep in contact. A treat for us was when, on her retirement two years ago, Kay and I were able to reciprocate, spending a week with them and meeting much of their extended family in Australia in 2015."