Monday, October 23rd, 2017
Runners advance to regional
District Cross Country Roundup
By Daily Standard Staff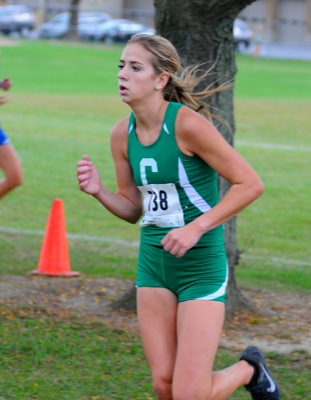 Compiled By Colin Foster and Gary R. Rasberry

Area cross country teams traveled to Ottawa Park in Putnam County for district meet competition on Saturday.
Division II ran one race each for the boys and the girls while Division III had two sections for both boys and girls.
Team and individual qualifiers advance to the regional meet this Saturday at Hedges Boyer Park in Tiffin.
In the Division II girls' meet, Celina and St. Marys advanced their full teams after the Bulldogs placed third and Roughriders finished third in the meet.
The team title went to the sixth-runner tiebreaker between Napoleon and Celina after both teams finished with 76 points. Napoleon's Lydia Schroeder edged Celina's Rose Kraner by 4.1 seconds for 40th place to break the tie in favor of the Wildcats. Bryan finished fourth to secure the final team qualifying spot.
Napoleon's Sydney Niekamp won the race in 19:45.9. Celina's Lauren Jackson placed third overall with teammates Caleigh Ross placing ninth and Ashley Robinson 13th. St. Marys's Lauren Cisco and Morgan Henschen finished 15th and 16th respectively with Laura Wilker 18th. Celina's Kennedy Newell finished 20th.
Division II Boys
Celina finished eighth and St. Marys placed 10th in the team standings. Van Wert, Wauseon and Ottawa-Glandorf claimed the three team qualifying spots for the district.
Unlike in other races where individual runners could advance despite not being on qualifying teams in the top 16, only those in the top 12 moved on. St. Marys' Noah Tobin placed eighth to earn a trip to Tiffin and Celina's Hunter Lynch finished 12th to represent Celina at the regional.

Division III Girls Section 1
The Minster girls claimed the Division III district title with a grand total of 19 points on Saturday.
Minster's Emma Watcke won the race (18:55.9), Kaitlynn Albers was third (19:42.0), Mackenzie Bohman fourth (19:47.3), Gwendolyn Meiring fifth (20:06.9) and Cassie Francis eighth (20:19.5). Madeline Magoto also finished ninth (20:25.5).
The top-three teams were from the MAC, as Coldwater was runner-up with 80 points and Marion Local was third with 91. Lincolnview also earned a regional berth in fourth (93 points).
The top four teams and top 16 individual placers advance to the regional meet.
Marion Local's Kelsey Broering was runner-up in the race, running a time of 19:35.8. Cassie Pohlman (22nd, 21:47.9), Alison Blackford (21:56.1), Hannah Kramer (25th, 22:02.6) and Haley Heitkamp (31st, 22:38.4) rounded out the top five for the Flyers.
Coldwater was led by the trio of Courtney Bye (21:18.1), Colby Homan (21:24.1) and Sara Honigford (21:32.7), who finished 16th, 17th and 18th, respectively. Beth Honigford was 21st (21:46.8) and Jessica Break was 23th (21:53.3).
Division III Girls Section 2
St. Henry, New Bremen and Fort Recovery all secured regional team berths next week. The Redskins finished second (51 points), New Bremen was third (70) and Fort Recovery fourth (89). Columbus Grove is also moving on after winning the meet with 39 points.
St. Henry was led by Katie Kunkler (fourth, 20:42.2), Ashley Bruns (ninth, 20:56.8), Vanessa Goewert (11th, 21:08.8), Erin Clune (16th, 21:32.9) and Olivia Hemmelgarn (17th, 21:34.3).
New Bremen was paced by Alayna Thieman (seventh, 20:49.4), Andrea Heitkamp (10th, 21:05.5), Tess Lane (15th, 21:24.6), Carson Wyatt (21st, 22:13) and Alana Speelman (24th, 22:32.1).
Fort Recovery's Chloe Will was the highest area finisher in the race, earning bronze with a time of 20:39.3. Following her were Anna Wendel (13th, 21:21.6), Hanna Metzger (22nd, 22:22.3), Kendra Metzger (23rd, 22:29.8) and Elise Gehle (38th, 23:59.1).
Parkway finished sixth in the team standings. Treya Conn finished 19th, missing a regional berth.
Division III Boys Section 1
Parkway's Matt Gaerke (17:02.9) and Kyle Roth (17:16.9) went 1-2 in the Division III boys race, but Minster won the team title by placing four runners in the top seven.
Jon Albers was fourth (17:21.7), Andrew Broering fifth (17:28.6), Luke Barga sixth (17:29.2) and Carter Pohl seventh (17:37.4). Aaron Huwer placed 19th (18:31.4) for the Wildcats, who totaled 40 points.
The Panthers also advanced to the regional meet with a runner-up finish (50 points). Following Gaerke and Roth were Aaron Bruns (12th, 18:04.2), Reid Etzcorn (15th, 18:19.8) and Bryce Lowery (23rd, 18:47.5).
Antwerp finished third (101 points) and Crestview took fourth (108). Marion Local (203) and Fort Recovery (209) finished seventh and eighth, respectively.
Fort Recovery's Drew Muhlenkamp earned a regional berth with a 14th-place finish (18:18.7). Austin Kremer was the top finisher for the Flyers (22nd, 18:45.8).
Division III Boys Section 2
St. Henry finished second and Coldwater finished fourth to earn trips to Tiffin in the second section of Division III boys running. Lincolnview captured the team title and Columbus Grove placed third to qualify. New Bremen finished sixth, just 20 points out of the final qualifying spot.
Brandon Siefker of Ottoville was the race winner with St. Henry's Devin Huelskamp finishing second. Andrew Schoen of Coldwater was eighth with St. Henry's Braydon Hoying ninth and Coldwater's Issac Schoen 10th.
New Bremen's Ezra Ferguson finished 16th to claim the final individual transfer spot for the regional.