Saturday, April 14th, 2018
Eye in the sky improves view
Sheriff's drone provides new options on scene
By William Kincaid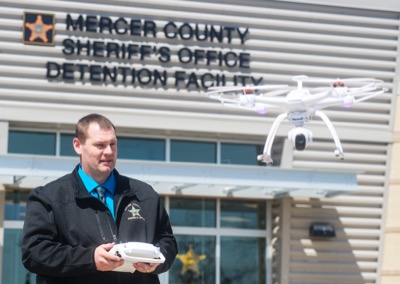 CELINA - Despite having been actively deployed only a handful of times, a camera-equipped unmanned aircraft system has proven beneficial for the Mercer County Sheriff's Office, personnel say.
"I'm amazed at the quality of the videos and the pictures," sheriff Jeff Grey said. "We haven't used it a whole lot yet. They've done a couple of crashes. Hopefully we won't have to use it to search for a missing kid, but that would certainly be an appropriate use."
Mercer County commissioners in September 2016 authorized Grey's purchase of what is commonly referred to as a drone to perform various duties. Previously, the office relied on Auglaize County's drone.
A resident who went through the sheriff's office's Citizens' Academy then stepped forward to donate a small craft to the office after finding it wasn't well-suited to photographing birds up close.
"There's all kind of uses, from crash reconstruction, getting aerial photography," detective Chad Fortkamp said. "Search and rescue, I think, is a big one."
Fortkamp and fellow detective Carla Baucher, the office's two crash reconstructionists, were tasked with obtaining remote pilot certification, one of the Federal Aviation Administration's requirements to fly a drone.
The two traveled to Cincinnati's Lunken Airport for a two-day class covering aviation laws, followed by intense cramming and a two-hour examination.
"It was a rough test," Fortkamp said. "I'd never done anything in aviation before."
They both passed and soon, as the only two officers authorized to fly the drone, began practicing with the drone.
"They're not allowed to fly the drone without me knowing about it," Grey said.
The drone's primary uses are to help with traffic crash reconstruction by taking aerial photos and video footage and searching for missing people.
"I don't want to use it for surveillance," Grey stressed. "With some people in the public, drones can be controversial, and we want to use it for very legitimate purposes."
So far, the drone's been put into action only a few times for crash reconstruction.
"Whenever we have the ability to see things and capture images that you can't normally capture I think it's a benefit," Grey said. "In the past we'd have a bad traffic crash and you're just getting photos from the ground level."
The drone allows for a bird's-eye, panoptic view of a scene including vehicles and related debris, which is particularly helpful in documenting evidence.
"Especially in the case that maybe there's going to be a prosecution so that the jury or the judge can actually see (the images)," he said.
The drone, by federal rules and design, has its limitations. Fortkamp said by law operators can take a drone up only 400 feet past ground level or the top of a structure.
"Would I love to get a bigger, better (one)? Absolutely. (With) this one, we have a limitation of around 700 feet as far as the distance away from the control," Fortkamp said. "For crash reconstruction it's perfect because we're generally in the middle of the scene when we're trying to get photographs."
It also lacks infrared capabilities for nighttime photos. Grey had told commissioners he wanted to start with a small drone before possibly upgrading to a high-tech model if the need arises.
"Those are really expensive," Grey said. "For the cost of that versus how often we would use it."
The drone could speed up missing person searches in places such as cornfields.
"It can hover so close above the corn, and it can see down to the ground and the rows, where if we brought a helicopter in there's so much wash from the propeller that it just blows the corn around so much it makes it really hard to see," Fortkamp said.
"The drone's cheaper to fly than a helicopter," Grey added.
The drone's flights are limited to 15 minutes so the detectives carry several backup batteries and a portable charger to get it back into the air as soon as possible, Baucher said.
The office has found other applications as well. After a tornado barreled through Mercer County on Nov. 5, Grey offered to have the detectives take pictures of damaged farm properties.
"That was something that helped the farmers with their insurance," Grey said, adding footage was taken on about half a dozen properties. "We hadn't had it that long so it gave (detectives) experience flying it."
Fortkamp and Baucher take time to keep their controlling skills sharp.
"We still have to stay fluent in it so once in a while we'll just bring it out back and fly it around," Fortkamp said. "You have your different obstacles - sun versus cloudy days, and then the wind is always a major factor."
Grey said area police and fire departments are welcome to take advantage of the office's drone.
Celina City Council set aside nearly $20,000 in the 2017 budget for a drone with forward-looking infrared and video-recording capabilities.
Celina Police Chief Tom Wale hast not yet pulled the trigger on the purchase, citing the FAA regulations.
"In law enforcement we have to go and get what amounts to a pilot's license, so there's quite a bit of training in it, passing licensing tests and renewing that license every year," he said.