Friday, May 11th, 2018
On to the next round
Minster advances to district with 7-1 win over Marion
By Gary R. Rasberry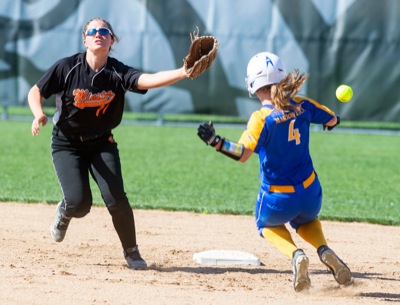 MINSTER - After one inning, it appeared that the second Marion Local-Minster softball matchup would be like the first.
But the Wildcats didn't feel like having any déjà vu.
Minster scored three runs in the third and two more in the fifth to win the Division IV sectional final 7-1 over the Flyers on Thursday at Four Seasons Park.
Minster (19-6) travels to Wapakoneta next Tuesday to face another backyard rival in New Bremen, which won its sectional game 10-0 over Upper Scioto Valley. Marion Local (11-7) finishes the season having won nine of its last 12 games.
The first meeting on April 24 was a 4-2 win for Minster. On Thursday, Marion scored a run in the top of the first when Emily Nietfeld singled, stole second and came all the way home when the throw down to second went into the outfield.
Minster scored its go-ahead run in the same manner. After Jenna Poeppelman singled, scoring Karly Richard to tie the game, courtesy runner Royce Glass stole second and then came home on a wild throw.
"This was a game you try not to overthink things," Minster coach Robb Hemmelgarn said. "But with a couple of three day layoffs since our last game, you can't help it. … It looked like it would be one of those defensive battles."
After the first, the Wildcats shut down the Flyers. Poeppelman scattered three hits and a walk the rest of the way, and struck out four. The Wildcat defense shined, turning three double plays, including a 4-6-3 double dip to end the game.
"We work a lot of defense," coach Hemmelgarn said. "We tell Jenna not to worry about the runs or hits. Trust your defense. We've played remarkable defense this year."
"She was bringing it pretty good," Marion coach Jerry Moeller said of Poeppelman. "She got us going after some bad pitches. We couldn't make contact."
Minster applied the coup de grâce to Marion in the third. Richard started the inning with a bunt single. The throw to first, however, ended up deep in the outfield foul territory. Coach Hemmelgarn waved around Richard for the third Minster run. The same thing happened to Danielle Barhorst, as her bunt single resulted in a trip around the bases due to a wild throw into the outfield. The third Minster run came when Taylor Homan scored when Lindsey Albers reached on an error.
"Had we just got to first base, that's two runners on with Taylor coming up. That's the situation I was trying to generate," coach Hemmelgarn said. "It's just icing on the cake when they keep running."
"We had quite a few errors," Moeller said. "I thought we'd play better defense. For some reason tonight, we didn't have the throws on target."
Minster added two more runs in the fifth on RBI singles from Alice Schmiesing and Emma Schmiesing. Moeller replaced starting pitcher Amber Schmitz with Nietfeld after the second RBI hit, with Nietfeld allowing just one more single over the final 1 2/3 innings.
Schmitz went 2-for-2 for Marion Local. Homan 2-for-4 for Minster.
Now the Wildcats face New Bremen. The regular season meeting was a close 1-0 win for Minster.
"It's New Bremen. Whatever sport is playing, it's going to be a challenge," coach Hemmelgarn said. "Craig (Cardinals coach Craig Griesdorn) is a tremendous coach and they have a great program. They're hungry, but we're going to give it everything we have."