Saturday, October 13th, 2018
Officials probe two crashes
Man in stolen car leads police on chase before crashing
By Ed Gebert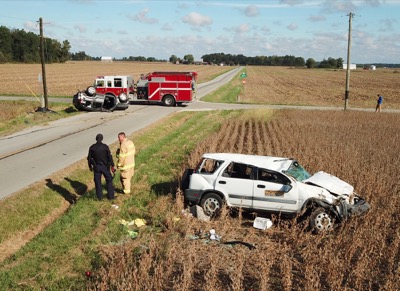 A man involved in a two-vehicle collision on Friday morning stole a car belonging to a person who had stopped to help at the crash site and proceeded to lead police on a high-speed chase before crashing in a field along State Route 707.
Lucas J. Jackson, 37, Toledo was driving an undisclosed vehicle at a high rate of speed on Hoenie Road south of Fast Road in Hopewell Township when he struck the rear of a 2001 Honda driven by an unnamed Celina man just after 10 a.m. Friday, according to a news release from the Mercer County Sheriff's Office.
Jackson then reportedly used a screwdriver to threaten a person who had stopped to help before stealing the good samaritan's 2003 Pontiac Grand Am, fleeing the crash scene. The sheriff's office is withholding the names of the drivers of the Honda and the Pontiac Grand Am pending further investigation, according to the release.
Rockford Police Chief Paul May, who was responding to the crash scene, reportedly passed Jackson in the stolen Pontiac Grand Am westbound on State Route 707. May turned his patrol car around and began to pursue Jackson, according to the release.
Dash-cam video taken from May's patrol car and supplied to the newspaper by the sheriff's office showed the Pontiac Grand Am running the stop sign at State Route 118 at a high rate of speed. A voice in the video at one point said he had reached 75 mph. Then east of Erastus Durbin Road, flashing lights could be seen ahead of the Pontiac Grand Am and a voice in the patrol car said, "Central, I've got a flatbed tow truck with his amber lights on trying to slow him down. I don't know who it is."
Jackson then reportedly lost control of the Pontiac Grand Am, and it made a sudden, sharp right turn, apparently to avoid hitting the tow truck, veering off the road and flipping onto its hood as it entered the field. (The dash-cam video footage can be seen at
dailystandard.com
.)
Jackson reportedly was trapped inside the car and was extricated by rescue workers. He was transported by Rockford EMS to Mercer County Community Hospital and was being treated while guarded by Mercer County sheriff's deputies, according to the release. The sheriff's office was assisted at the hospital by the Coldwater Police Department. Jackson's condition was not released as of press time.
The driver of the Honda was transported to an area hospital with non-life-threatening injuries. No other information has been released as prosecutors will review the case for appropriate charges to be filed. The incidents remain under investigation.
Deputies were assisted at the crash scenes by Rockford Police Department, Celina Police Department, the Ohio State Highway Patrol, Mercer County Emergency Response Volunteers, Mercer County EMS and Celina and Rockford fire departments.