Monday, January 14th, 2019
Redskins outlast 'Cats
By Colin Foster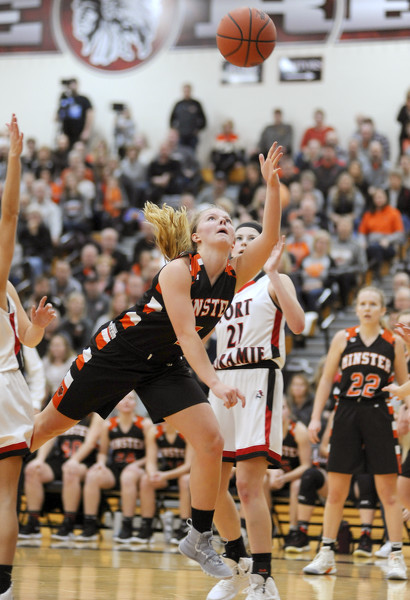 FORT LORAMIE - Minster's Ivy Wolf sprinted down the court and made a tough runner in the lane to force overtime with Fort Loramie on Saturday.
It was the easy - and free - shots the Wildcats didn't make that cost them their first loss of the season in a battle between Division IV's top-ranked teams.
After No. 1 Minster missed two free throws to win the game in the first overtime, No. 2 Fort Loramie pulled away in the second overtime for a 56-48 victory.
Entering Saturday, the Wildcats, now 13-1, had won every contest this season by double figures. They finished 17 of 53 from the field and 11 of 25 from the free throw line, making just 4 of 13 foul shots in the final three frames. The Redskins improved to 13-1. They were 18 of 38 shooting and 15 of 24 from the charity stripe.
"First of all, it's two teams that are three miles away that have a very strong girls basketball culture," Minster coach Mike Wiss said. "What was there, 1,500 people? Those people witnessed those two cultures laying it on the line against each other. We needed that. They needed that, too. Tremendous respect for (Fort Loramie head coach) Carla (Siegel) and what they do. After something like that, I think that goes likewise. That being said, you can talk about too many missed layups on Minster's behalf. You can talk about very poor free throw shooting on Minster's behalf."
Dana Rose's half-court heave at the buzzer gave Fort Loramie an 11-9 at the end of the first quarter. The lead changed hands four times early in the second quarter and then the Redskins went on a 7-0 run to take a 23-16 halftime lead.
"Our saying of the day was win the moment," Redskin coach Carla Siegel said. "We just said when you're at the free throw line, win the moment. When you're rebounding, win the moment. I felt like there were times when we won the moment, you know, when Dana hits the half-court shot at the end of the first quarter. That was a big shot for us. It gave us some momentum."
The Wildcats looked more like themselves in the second half, though.
They attacked the rim and got to the free throw line six times in the first 2 1/2 minutes, making five. Jessica Falk knocked down a triple, Demaris Wolf and Ivy Wolf both made buckets, and Karly Richard's 3 with 1:40 remaining vaulted the Wildcats in front 31-30.
Danielle Bornhorst began the fourth quarter with an offensive stickback and Ivy Wolf cashed a 3 the next trip down, extending the run to 20-7 for a 36-30 lead. Fort Loramie got buckets from Kennedi Gephart and Ava Sholtis to cut the lead to two points. After Courtney Prenger split 1 of 2 from the line, Rose knotted the score at 37-all with a 3 from the corner.
Near the two-minute mark, Prenger came up with a steal. She drove in and missed a layup, but Janae Hoying collected an offensive board and made two free throws after drawing a foul. Moments later, Sholtis tied the score at 39-all with a bucket off an offensive rebound.
Following a Minster miss, Fort Loramie ran some clock before Taylor Raterman was found on a cut by Sholtis for the go-ahead layup. Ivy Wolf was called for a charge on Minster's next possession, but she forced a Fort Loramie turnover with 30.9 seconds to play.
Hoying couldn't connect on a pair of foul shots with 20 seconds to go, but Minster kept the ball on its side by forcing a jump ball during the rebounding battle. Fort Loramie got back the ball on another jump-ball call. After getting fouled, Rose missed the front end of a 1-and-1 with 10 seconds to play. Prenger got the rebound and kicked it to Ivy Wolf, who went coast to coast for the game-tying floater that sent it to overtime.
Ivy Wolf's steal and layup gave Minster a 45-44 lead in OT, but she fouled out seconds later and sent Sholtis to the line. Sholtis split a pair to level the score. Each team missed shots to take the lead. Hoying was fouled on a drive with under five seconds to play but missed both free throws.
Rose began the second overtime with a 3-ball. Gephart followed with two layups after beating Minster pressure to seal the victory.
"That's a great ball club that they have over there," Siegel said. "I thought we did a pretty poor job of rebounding in regulation. We gave them a ton of offensive boards off free throws and they were able to get some put backs. But I'm proud of the tenacity of our girls. We could have wilted in the fourth quarter when they took the lead. We could have wilted in the first overtime when we were down a couple. But Dana Rose hit a couple big 3s. … I'm just proud of so many of our players today."
"There's a bunch of girls in the locker room who are very accountable for their actions and how they play," Wiss said. "I'm very sure they'll take this hard, but as I told them before we got off the bus, our month of January is hard."
Sholtis led Fort Loramie in scoring with 15 points. Rose scored 13 and Gephart added 10.
Ivy Wolf led all scorers with 17 points. Prenger finished with 10.
Fort Loramie visits Russia on Thursday. Minster also returns to the court on Thursday to host Marion Local before playing Dayton Carroll on Saturday at the Flyin' To The Hoop showcase at Trent Arena in Kettering.