Wednesday, January 30th, 2019
St. Marys tops Bremen
By Colin Foster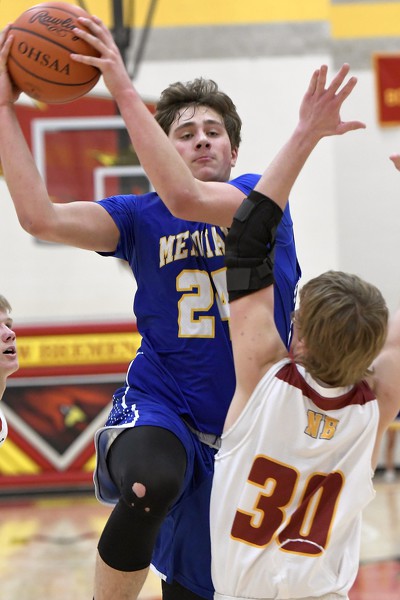 NEW BREMEN - The first quarter has been problematic for New Bremen this season.
That was the case again on Tuesday. Trying to contain St. Marys' Ethan Steger for 32 minutes was a problem, too.
The Cardinals fell behind 15-3 after one quarter, and Steger had a 27-point, 15-rebound night as the Roughriders held on for a 56-52 victory at the Nest.
Steger, a 6-foot-5 junior, entered the contest averaging a shade above 10 points per game. On Tuesday, he finished 10 of 14 shooting and 4 of 4 from the free throw line to set a new career-high.
"We were expecting big things from him last year, and then he breaks his thumb and sits half the season," St. Marys coach Craig Szymczak. "It kind of took him a while to get back into it. We were kind of expecting these things last year - maybe not 27 and 15 every night, but I think he's finally starting to come into his own. We need him down there. It opens up everything for everybody else."
Braeden Dunlap scored five points for St. Marys during a 10-0 run to open the contest, which forced New Bremen coach Brad Francis to take a timeout with 2:28 remaining. The Cardinals were 0 for 15 shooting in that span, missing a number of good looks at the basket. Finally, with 1:13 left, Nolan Bornhorst sank a jumper from just inside the free throw line. The Roughriders led 15-3 after one, holding New Bremen to 1 of 20 shooting.
"My kids were busting their butts - I think we had five offensive rebounds on the first six possessions," Francis said. "I don't think we were taking bad shots. If they're bad looks, then that's on me. If they're good looks, it's not on anybody. The kids weren't trying to miss them."
Bremen connected on those looks in the second quarter, though. And St. Marys' margin grew slimmer.
Nolan Bornhorst scored eight points in the frame and Justin Tenkman added five as the Cardinals connected on 8 of 12 shots. The problem, however, was Steger remained hot, finishing with 15 points in the half. The Roughriders made six 3-pointers and led 31-24 at halftime.
"When you've got to concentrate on (Steger), then you can kick it out to Carter (Ballweg) or you can kick it out to Max (Mielke)," Szymczak said. "Braeden's been shooting the ball better. Carson (Fischbach) can knock it down when he wants to. Jack (Cisco) doesn't shoot a lot, but Jack did a great job of running the offense and finding people. We do have a lot of good shooters out there. When you've got (Steger) down low doing what he's doing, it helps a lot."
New Bremen closed the gap to four points early in the third quarter, but Dunlap converted three layups after breaking the Cardinals' pressure and St. Mays kept a seven-point lead heading to the fourth.
Bremen got no closer than five in the final quarter. Steger, held scoreless in the third, added 12 points to his point total.
"We were scrambling and playing from behind the whole time," Francis said. "You've got to take chances, and the result of that was Steger getting 27."
Dunlap scored 11 points and Carter Ballweg added nine for St. Marys, which improved to 4-9 on the season.
"This is what we needed," Szymczak said. "We've had four games where it's gone the other way in the end. We just needed to see something good and just continue to build."
Bornhorst had a team-high 17 points for New Bremen (6-8). Bryce Blickle added 12 and 10 rebounds.
St. Marys hosts Bath on Friday in search of its first Western Buckeye League win. New Bremen hosts Delphos St. John's.