Monday, February 11th, 2019
Governor in Wapak to celebrate courthouse
Officials gather to mark building's 125th birthday
By Sydney Albert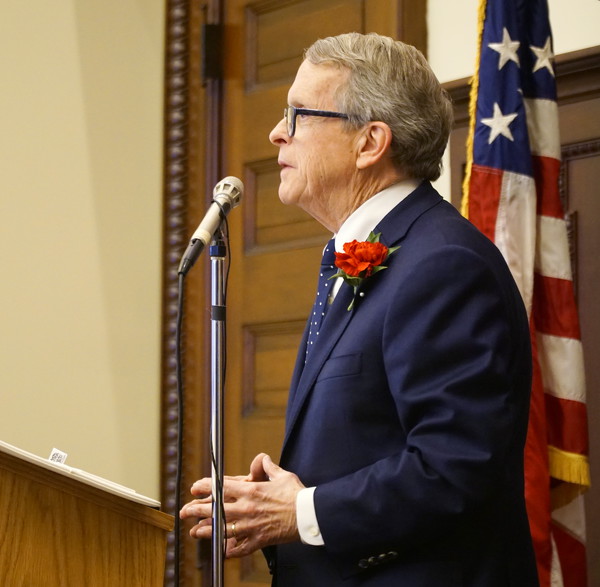 WAPAKONETA - Gov. Mike DeWine was among several state and local representatives who honored the 125th birthday of the Auglaize County Courthouse during a special ceremony Sunday in Wapakoneta.
DeWine, his wife and several other members of the governor's family had earlier visited the Armstrong Air and Space Museum. The governor opened his comments by saying how delighted he was to see the expansion work underway at the museum.
Everybody alive at the time of the moon landing has his or her own special memories of where they were and how they felt witnessing the event, DeWine said adding that he looks forward to visiting Wapakoneta this summer for the 50th anniversary of the Apollo 11 moon landing.
As for the courthouse, DeWine's wife, Frances, had reportedly called courthouses the heart and soul of a county when they had discussed attending Sunday's celebration, and he agreed with her.
"My main purpose here today is to thank you and thank those who came before you for having the foresight to build this magnificent county building, but also to keep and preserve it, because courthouses are very, very special. It's where justice is done. Historically, they've been gathering places in the communities and counties," DeWine said.
Looking back at the period when the courthouse was being built, DeWine said it was a credit to the vision of the community and the commissioners of the time to keep the project going during an economic downturn. Maintaining a vision despite hard times is part of what makes the United States great, he said.
As for DeWine's vision for the state, he said it was time to invest in the state's children and infrastructure, topics about which he said he would be speaking more in the future.
Investing in children and infrastructure is like the investment Auglaize County made in its courthouse. He said it may seem like a lot of money at first, but they will be better off down the road.