Monday, February 25th, 2019
Wild winds hit area
Gusts cause power outage, overturn semis, topple trees
By William Kincaid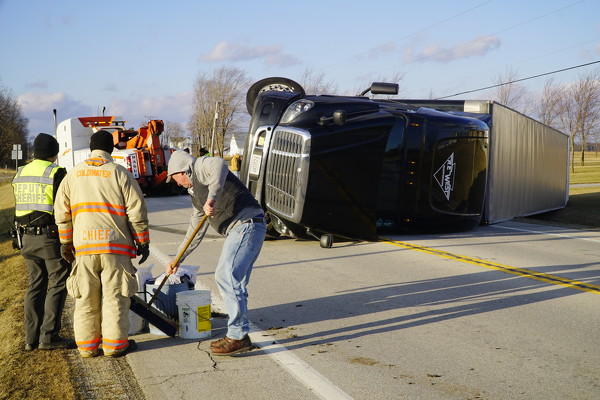 MERER COUNTY - Powerful, howling winds buffeted the area on Sunday, taking down trees and power lines and leading to widespread power outages across Mercer County, according to officials.
Strong wind gusts in some instances sent power lines and trees crashing down onto automobiles and homes and blew over three semitrailers on roads, according to reports and dispatches.
The county was under a high wind warning on Sunday until 10 p.m., according to U.S. National Weather Service. Local weatherman Dennis Howick reported wind gusts as high as 62 mph.
Areas of the county, including Celina, Coldwater, St. Henry and Rockford, experienced power outages. In Celina, the power went out shortly before 4 p.m. before returning at about 6:29 p.m.
Dayton Power and Light spokesperson Mary Ann Cable could not provide details about Mercer County but told the newspaper that approximately 26,000 customers in 24 counties in the company's service territory were impacted by power outages.
Cable attributed all of the outages to high winds, which caused branches or trees to fall on power lines.
Midwest Electric, a non-profit, customer-owned electric cooperative serving about 11,000 homes, farms and businesses in west central Ohio, on social media reported numerous outages throughout its seven-county service area, which includes Mercer and Auglaize counties.
At about 7:30 p.m., Midwest Electric posted on social media that about 1,600 members were without power, mostly due to transmission issues.
High wind gusts were blamed for an accident at around 4 p.m. involving a semitrailer driving southbound on U.S. 127 north of State Route 219.
"I have an empty trailer going to Brookville, Ohio, and (the wind) just picked up (the trailer)," the driver told the newspaper.
He said he hit his brakes before the truck was knocked onto its side near Zuma Motors. He emerged from the semitrailer relatively unscathed aside from a sore wrist, the driver said.
Mercer County Emergency Response Volunteers blocked off a stretch of the highway from the intersections of State Route 703 and State Route 219. Two semitrailer wreckers later pulled the semitrailer upright. Coldwater firefighters, who were called in to inspect a minor fuel leak from the semitrailer, remained on scene as the semitrailer was pulled up.
Strong winds downed trees and power lines and led to power outages across many other parts of Ohio.
Thousands of outages were reported as of Sunday afternoon in areas of northeast Ohio, including Cuyahoga, Lake, Lorain, Medina and Summit counties.
Winds gusts up to 50 mph were reported across Franklin County and surrounding areas of central Ohio downing trees and power lines, with similar conditions across much of southern Ohio.

- The Associated Press contributed to this story.