Saturday, March 9th, 2019
Local teen heads for California to perform for music executives
By Tom Stankard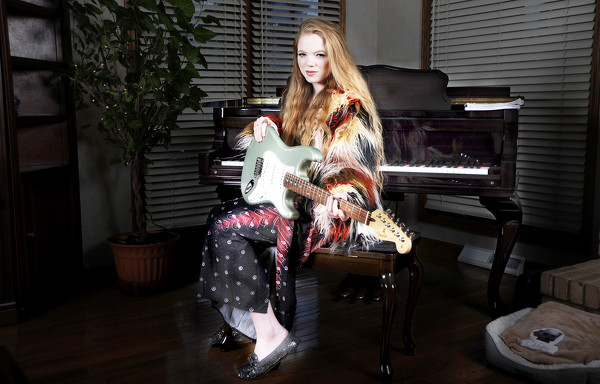 CELINA - Celina native Lauren Schroeder has always wanted to be a famous musician like the people she hears on the radio.
The 16-year-old's dream could come true as she prepares to perform on Thursday in the City of Angels before an audience of managers, agents and casting directors.
Her parents, Bob and Ria Schroeder, instilled in her this love for music, and by the age of 3, she was singing along to her idols Queen and Stevie Nicks in front of the mirror and messing around on the piano.
"We never told her to put her instrument down; we were the opposite. We're very supportive as long as she gets her school work done," Bob Schroeder said.
Lauren Schroeder's love of music kept growing, and she wanted to follow in the footsteps of her father, who sings and plays bass guitar for the local band Exploit.
Filled with dreams of becoming a star, Schroeder took to the stage at the age of 7 to sing "The Climb," by Miley Cyrus, alongside her dad. This was just the beginning, Schroeder recalled, and she couldn't wait to perform again wherever she could get the chance.
Schroeder began putting her thoughts onto paper when she was 13 and has written about 15 original songs. Inspiration comes from life experiences, she said, be it relationships gone wrong or circumstances she's encountered.
She said her favorite song is the latest one she's written, "No Pleasing."
"Its about not being able to please everybody," she said. I use negativity as a form of inspiration."
The song ends on a positive note, though, she added, symbolizing that life is not always negative.
Schroeder said she improves each time she performs and last year decided to put her talents to the test by singing "Stay" by Rihanna at the Ohio's Got Talent competition.
"It was too reserved," she said, adding she wished she would have performed a riskier song.
When picking a song to play for this year's Ohio's Got Talent, she tapped into her love of Queen and started playing "Somebody to Love."
Schroeder recalled singing the song and afterward walking into her brother Cory's room to ask him what he thought.
"He has a great ear for music and smiles when he hears a song he likes. He was smiling and thought I had to do this song," she said.
Schroeder said she felt nervous before taking the stage on Feb. 23 at the Niswonger Performing Arts Center in Van Wert, but at showtime she told herself "I got this. I can do this."
Many of her friends and family members made the trip to cheer her on. The crowd got into the music and began to sing along, Schroeder said, making her feel more comfortable.
"All the support was amazing," she said. "I loved having them there."
Taking the risk of performing a more difficult song paid off, Schroeder said, she took home first place and the $1,000 grand prize.
"I couldn't believe I won. The whole night was such a blur," she said.
Schroeder said she is going to use the money to hone her talents at a five-week music program at Berklee College in Boston.
As if that weren't enough, Schroeder said Scenebot Stage has selected her from among 50,000 contestants to perform live in front of music executives on Thursday in Los Angeles. She has never been there and said she looks forward to taking in the sights. When not enjoying what the city has to offer, she will be rehearsing with a vocalist coach to prepare for her possible big break.
She plans to sing "Somebody to Love" once more, along with her original song, "Liar," which she said is about a relatable situation of a bad relationship.
"There will be a lot of good people performing," she said. "We'll see what happens."
Schroeder said she envisions herself becoming a musician unlike anyone else.
"I want to bring something new to the table," she said. "However, I do want to obtain the kind of success in music that people like Elton John have achieved."