Tuesday, June 11th, 2019
Baseball Dream Team
Wildcats, Cavs sweep top honors
Wiss, Harlamert share Dream Team Coach of the Year; Wenning named Player of the Year
By Colin Foster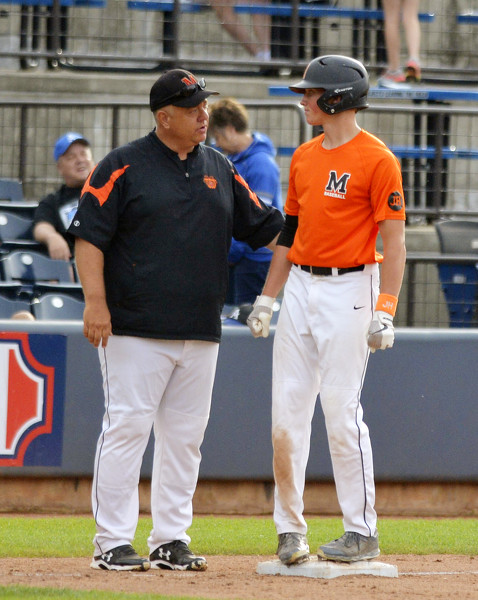 Minster's Mike Wiss and Coldwater's Brian Harlamert have been friends, teammates, groomsmen at each other's weddings, competed on opposite sides as coaches and won state championships with their respective schools.
They can add Daily Standard Dream Team co-Coaches of the Year to that list now, too.
Wiss and Harlamert have been chosen to share the award after guiding their teams to the OHSAA State Baseball Championships. Wiss' Wildcats fell in the Division IV state semifinal. Harlamert claimed his second title as the Cavaliers won the Division III crown, giving the program seven all-time.
The former University of Dayton teammates both prioritized crediting their assistant coaches above of all else.
"A lot of what you have, and Brian would probably second this, is continuity," said Wiss, whose coaching staff is composed of Jeff Stueve, Austin Kaylor, Bob Inskeep, Adam Clune, Dave Bergman, Mark Cordonnier. "Both (Minster and Coldwater) have that. Your coaching staff has been the same coaching staff for years. The same guys are in the same spot year after year. Everyone but one of mine is an ex-player of mine."
"I have a great coaching staff," Harlamert added. "If I could give one quote that I want to be exemplified is the work that (varsity assistant) Cory Klenke puts into our program. You know, Cory, Jason Hemmelgarn, our young coaches with our JV, Bill Ray, Eric Stachler and Riley Muhlenkamp have been with us for several years. We're blessed to have guys that understand the game.
"Then you throw in our (ACME coach Tom Brunswick), our young coaches who help out in the park, our people understand how we do things. I think that just makes our job easier."
Having a player like Jacob Wenning made it easier for Harlamert as well.
Wenning, a shortstop/pitcher for Coldwater, earned his second straight first team All-Ohio selection and was chosen as Dream Team Player of the Year. In Sunday's state championship against Ridgewood, Wenning pitched a complete game and also scored the game's lone run on a single by Jake Hemmelgarn. On the season, Wenning hit .417 with six doubles and 34 RBIs while also posting a pitching record of 11-2.
"It's been fun," said Wenning, who hopes to walk on at Butler University, last week. "It's my senior year, and baseball's always been my favorite sport. We came in with big expectations, not only for the team but for myself. The tournament run has been just awesome. Just having fun with the team and all the stuff we've been doing together. We've made a lot of good friendships, and hopefully we can win two more games and bring a state championship back to Coldwater."
They did.
Wenning threw a complete-game four-hitter in Sunday's win over Ridgewood, helping the Cavaliers to a 1-0 victory.
"When he was selected first team All-Ohio, I think he's the first two-time winner in our history at Coldwater," his coach said. "And to do it at two different positions - at second base last year and at shortstop this year - and not miss a beat defensively. There's 20 shortstops that were up for that position of all-state, they take four middle infielders, and he was one of four second base/shortstops selected. I'm just really happy for him. He's put in a lot of work. For a three-sport athlete, an all-league selection in all three sports and all-state selection in baseball, it just shows you the skill level he has."
Wiss and Harlamert are coaching back at their high school alma maters. Wiss graduated high school a year ahead of Harley. The two went on to play baseball for the University of Dayton and shared a college house with fellow MAC alums/UD players Mark Wiss (Minster), Ben Ernst (Minster) and Tony Osborn (Parkway).
At Minster, Wiss guided the Wildcats to state titles in 2011, 2012 and 2017. Harlamert now has two state championships (including 2014) and a handful of runner-up finishes.
This year marks the first time Wiss and Harlamert have been at state together.
"When Brian got inducted to the UD Hall of Fame several years ago, he asked me to give the induction speech," Wiss said. "Honestly, (Tuesday) I got a phone call from one of our UD coaches, who was very happy to know that we had both made it and were both there at the same time."
Minster's state run may have been a little more surprising than Coldwater's.
The Wildcats were 10-7 after a May 2 loss to Parkway and then rallied to win their next 12 games, clinching a state berth with a 1-0 victory over Cincinnati Christian. Minster's season ended with a 1-0 loss to Hillsdale in Friday's state semifinal.
"There was a period of time when we were not having fun, and honestly our mind wasn't in it when one of our teammates (Jackson Hogenkamp) died," Wiss said.
"It was probably a good thing that we were playing, because that was two hours where their mind wasn't on it," Wiss continued. "But their attention to what we were doing wasn't there at all, and rightly so. To their credit, they worked their way through it. There was probably some psychology involved in that. … I don't know that we're playing for Jackson. I think we're playing because we love the game, and Jackson was a part of that."
After Coldwater's regional run in basketball, several baseball starters got a late start to the spring. The Cavaliers went 0-3 out of the gate before winning their next 20 games - including all nine in Midwest Athletic Conference play. A 5-4 comeback victory over top-ranked Archbold put Coldwater back at state for a second straight year.
"Very happy with the effort from all of our guys," Harlamert said. "From Day 1 when we got them, the non-basketball guys showed up ready to work. When the basketball guys showed up, they had to get their baseball legs together. They got right in there and started working. When you work hard, good things happen. It just shows the desire to win is huge."

2019 Dream Team:
CATCHER
Austin Riethman, Sr., Coldwater
.350, 4 home runs, 13 doubles,
33 RBIs, 38 runs

FIRST BASE
Sam Lefeld, Sr., St. Henry
.368, 10 doubles, 2 triples, 25 RBIs

SECOND BASE
Jay Knapke, Sr., St. Henry
.390, 22 RBIs, 21 runs

SHORTSTOP
Mitchell Hays, So., New Bremen
.422, 8 doubles, 22 RBIs,
25 stolen bases, 26 runs

THIRD BASE
Myles Blasingame, So., Coldwater
.345, 20 stolen bases, 25 runs

OUTFIELD
Parker Maurer, Sr., Celina
.342, 8 doubles, 26 RBIs

Jack Olberding, Jr., Minster
.431, 13 doubles, 4 triples, 31 RBIs

Bryce Blickle, Sr., New Bremen
.403, 18 RBIs, 22 runs

DESIGNATED HITTER
Noah Miller, Sr., Coldwater
.358, 3 home runs, 31 RBIs

UTILITY PLAYERS
Ryne Post, So., Fort Recovery
.395, 7 doubles, 16 stolen bases,
23 runs
Jack Heitbrink, Sr., Minster
.478, 11 doubles, 4 triples, 33 RBIs

Ryan Bertke, Sr., New Bremen
.384, 8 doubles, 23 RBIs, 23 runs

PITCHERS
Jacob Wenning, Sr., Coldwater
11-2, 2.76, 43 strikeouts; .417,
6 doubles, 34 RBIs, 27 runs

Cole Frilling, Sr., Coldwater
9-1, 1.74 ERA, 1.23 WHIP, 47 strikeouts

Spencer Alig, Sr., New Bremen
7-1, 0.68 ERA, 0.88 WHIP,
66 strikeouts

Rylee Deitsch, Sr., St. Henry
6-2, 0.82 ERA, 0.93 WHIP,
45 strikeouts

Honorable mention
Celina: Bransen Miller, Grant Wagner, Reid Harter
Coldwater: Jake Hemmelgarn,
Zack McKibben
Fort Recovery: Riley Post,
Cobe Wendel
Marion Local: Matt Moeller, Brandon Fleck, Tim Knapschaefer, Darrin Hays
Minster: Noah Enneking,
Austin Brown
New Bremen: Justin Tenkman
Parkway: Jack Wehe,
St. Henry: Daylen Froning,
Ethan Thieman, Marc Siefring
St. Marys: Trey Fischer, Henry
Spencer, Dylan Trogdlon