Monday, July 8th, 2019
Mercer County ACME Sectional
Tournament time
Cavs, Indians to meet in winner's final; 'Skins, Bulldogs still alive
By Gary R. Rasberry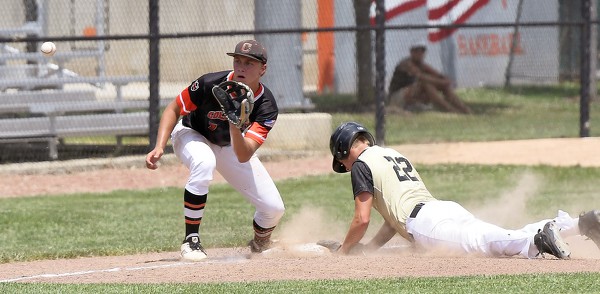 Compiled by Gary R. Rasberry

The weekend had a mix of surprises at the Mercer County ACME sectional at Coldwater.
While top-seeded Coldwater easily won its game with Parkway to advance to tonight's winner's bracket final, Fort Recovery got a strong pitching performance from Riley Post to shut out second-seeded St. Henry 3-0 on Saturday and advance to face the Cavaliers tonight. The teams split their two meetings earlier in the season.
The Redskins, forced into the loser's bracket, used a strong pitching performance from Ryan Uhlenhake to beat a determined Marion squad 5-1 in the first elimination game on Sunday. In Game 2, Zach Hirsch and Dylan Feister combined to continue Celina's season with a 7-2 win over Parkway.
St. Henry and Celina match up tonight in the second game around 8 p.m. in Coldwater. The Redskins swept the regular season series.

SATURDAY
Coldwater 10, Parkway 0 (5 innings)
Reece Dellinger pitched a two-hitter as the top-seeded Cavaliers earned a spot in tonight's winner's bracket final.
Dellinger did not walk a batter and struck out five in picking up the win.
The Cavaliers scored one run in the bottom of the first and then plated four in the second. After a scoreless third, Coldwater added three in the fourth and triggered the run-rule in the fifth with two more runs off Justan Felver, who allowed 12 hits in 4 2/3 innings pitched.
Jake Hemmelgarn was 3 for 4 at the plate with five RBIs to lead Coldwater. Zack McKibben, Myles Blasingame and Dellinger each added two hits.
Fort Recovery 3, St. Henry 0
The teams split their regular season doubleheader. In the Indians' 7-5 extra-innings win on June 26, Riley Post pitched 4 2/3 innings of hitless baseball to earn the win.
Post took the starting nod on Saturday and came up with a stellar showing, scattering two hits with seven walks and six strikeouts to get the win.
"Riley Post is the ultimate competitor," said Fort Recovery coach Jeff Wendel. "He loves to compete for his teammates."
The Indians took the lead in the third inning thanks to Redskin errors. Riley Post reached first base on a dropped third strike. Ian Homan followed by reaching on an error. A passed ball allowed Riley Post to score the first run. Garrett Faller followed with an RBI single to score Homan to make it 2-0. Fort Recovery added an insurance run in the seventh with Riley Post singling home Owen Schoen.
"We don't know how we are going to win," said Wendel. "We just know we are going to win."
SUNDAY
St. Henry 5, Marion Local 1
Uhlenhake, who was one out away from throwing his second perfect game of the summer last Tuesday against Russia, shut down the Flyers after allowing a first inning run. Reece Hess reached on a one-out single and came all the way around from first to score on Zach Bruggeman's single to center. The Flyers lost their chance to add a run when Bruggeman tried to stretch a single to a double and was thrown out at second, followed by Uhlenhake enticing Kyle Muhlenkamp into an inning-ending groundout.
Over the final six innings, Uhlenhake held Marion to one hit, a fourth-inning single from Hess, two walks and a hit batsman while striking out seven to get the win.
Brandon Fleck got the start for Marion and pitched well for the first four innings, allowing just five hits. But the hits were just enough for St. Henry to tie and then take the lead. Tyler Dehan's two-out triple in the second inning scored Isaac Wendel for the tying run. In the fourth, Wendel led off with a single, stole second and went to third on a groundout, setting up Andrew Lange's sacrifice fly to right to score the go-ahead run.
St. Henry was able to chase Fleck in the sixth inning as Lange singled and Josh Evers walked with one out in the inning. Hess came on to try and get the final two outs, but a wild pitch scored Lange and a throw to third to try an get Evers went into the outfield, allowing Evers to score for a 4-1 lead. The Redskins added a final run in the top of the seventh on Dehan's RBI single to score Uhlenhake.
Dehan was 2 for 4 with two RBIs with Lange going 3 for 4.
Hess had two of the three Marion hits.
Celina 7, Parkway 2
The Bulldogs got their offense rolling in the bottom of the first with three runs off Parkway starter Adam Stephenson. Caden Highley's fly to center scored Quinn Andrew and a fielder's choice and wild throw resulted in two more runs.
Hirsch gave up a run to Parkway in the second and another in the fourth, but Hirsch allowed just three hits over four innings before turning over the ball to Dylan Feister in the fifth. Feister weathered Parkway's attempts to get back into the game, but the Panthers had five hits and stranded five runners on base, including having runners on third to end the sixth and seventh innings.
Celina added a run in the fifth off Stephenson to increase the lead to 4-2. In the sixth, Celina scored three runs off reliever Corey Walls to pad its lead.
Feister had two hits for Celina in the contest. Highley added three RBIs.
Breyden Bruns and Brock Baltzell each had two hits for Parkway.

Schedule:
At Coldwater Tonight
Winner's Bracket Final
Coldwater vs. Fort Recovery, 6 p.m.
Elimination Game
Celina vs. St. Henry, 8 p.m.
Tuesday
Elimination Bracket Final
Coldwater/Fort Recovery loser vs. Celina/St. Henry winner, 6 p.m.
Championship Game
8 p.m.

Winner and runner-up from the championship game advances to the District 4 tournament starting Friday in St. Henry.