Tuesday, July 9th, 2019
Auglaize-Shelby ACME Sectional
Minster wins pitching duel
By Gary R. Rasberry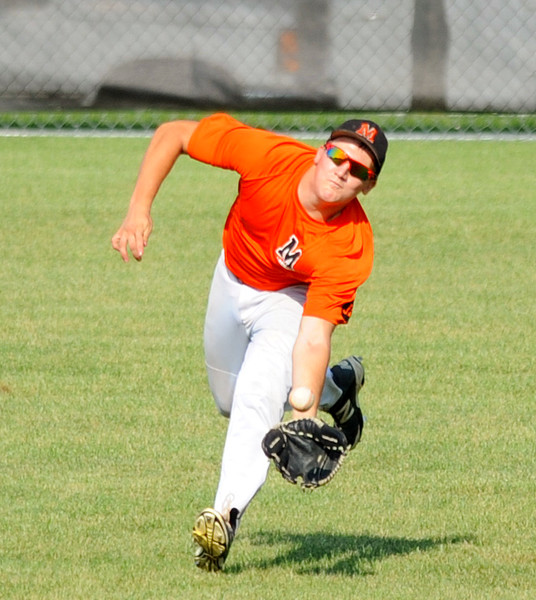 MINSTER - If fans were looking for offense in the championship game of the Auglaize-Shelby ACME sectional, they needed to show up for the first inning.
Both Minster and Fort Loramie got their runs in the first inning, then saw relief pitchers pitch a gem of a finish as Minster won the title game 2-1 on its home field on Monday.
Both teams advance to the District 4 tournament starting Friday at the Wally Post Athletic Complex. Minster plays the runner-up of the Mercer County sectional at 6 p.m. with Fort Loramie playing the Mercer champ around 8:15 p.m.
"It's good to know we have good pitching going to the district," said Minster coach Jay Eilerman.
The Redskins got their run off Minster starter Trent Roetgerman. Darren Hoying led off with a walk and stole second. After a flyout, Grant Albers singled to put runners on the corners for Devin Ratermann, who lofted a deep-enough fly to center to score Hoying. Roetgerman enticed a grounder back to the mound from Trevor Middendorf to end the threat.
Fort Loramie starting pitcher Carson Barhorst struggled from the start, walking Ethan Lehmkuhl and Adam Ketner to start the game. One out later, Gabe Philipps walked to load the bases for Jacob Niemeyer, who ran the count full before taking ball four to bring home Lehmkuhl. After Loramie got the second out, Dylan Sharp was hit by a pitch, allowing Ketner to score the go-ahead run. Fort Loramie brought on Derek Meyer to pitch, getting Kyle Riethman to strike out to end the inning.
After that, it was all pitching. Justin Nixon relieved Roetgerman and scattered two hits and two walks over the final six innings, striking out two along the way. The Minster defense was spotless, not committing an error.
"I'm glad he came out there throwing strikes and doing what he needed to do," said Eilerman. "Defense was there behind him."
Meyer finished the game for the Redskins, allowing just two hits and three walks over his final five innings of work. Minster had chances to score, but left 11 runners on base, including the bases loaded in the second and two runners on in the third and fourth innings.
"We left a lot on base. That's something we have to clean up moving forward," said Eilerman. "We had plenty of opportunities, just didn't take advantage of them. But in the end, it didn't really matter."