Thursday, July 11th, 2019
Shutout sweep
Mariners blank Green Giants in two wins
By Colin Foster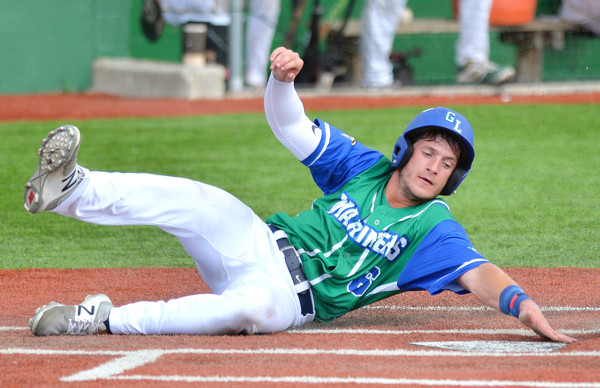 CELINA - The Grand Lake Mariners have played in some offensive shootouts.
Wednesday was all about shutouts.
Mariner pitchers Tommy Siemer, Josh Currier and Will David combined to throw 14 innings of shutout baseball in a doubleheader sweep of the St. Clair Green Giants at Montgomery Field.
Siemer threw a seven-inning four-hitter in a 1-0 victory to open the day. Currier followed by pitching six innings of one-hit ball in Game 2 with David throwing a scoreless seventh as the Mariners won 5-0.
"Starting pitching was big for us tonight," Grand Lake skipper Damon Haecker said. "We were able to save our bullpen for the next four days."
Grand Lake 1,
St. Clair 0
Siemer, a Lakota East High School graduate who pitches for Bluffton University in the spring, struck out five, walked two and threw 64 of his 103 pitches for strikes. Siemer improved to 3-1 on the season while lowering his ERA to 4.85.
"The last two times Siemer has come out he's kept us in the game," Haecker said. "He filled the zone up early and kept his pitch count down."
Grand Lake's Carson Eddy doubled in the game's opening at-bat. He went on to steal third and scored on a sacrifice fly to deep center by Oliver Campbell.
The Mariners stranded runners in scoring position in the second, third and fourth innings. In the seventh inning, New Bremen grad Luke Vonderhaar hit a leadoff single and Jared Burick followed with a walk. Vonderhaar was picked off at second, however, and the Mariners were denied yet another scoring chance.
It didn't matter, though, because Siemer was dealing. He finished off his complete-game gem by forcing a 6-3 putout with the tying run heading for second base in the seventh.
"In seven innings, I think we had the leadoff runner on five or six times," Haecker said. "And to score one run, that's tough. But at the same time, our offense has done good all summer. I'm not too worried about it. When you pitch like that at the mound to start, it makes it pretty easy."
Grand Lake designated hitter Jack Gallagher went 2 for 3 in the win, raising his season average to .286.
Green Giants pitcher Rey Rodriguez allowed four hits while striking out five and walking one in six innings of work. He is now 1-3 with a 2.97 ERA.
Grand Lake 5,
St. Clair 0
Currier threw four perfect innings.
And the Mariners did a better job of cashing in with baserunners.
Jayden Sinju broke up Currier's perfect-game bid with a double in the fifth. Currier, a Valparaiso product, finished with seven Ks and no walks while throwing 50 of his 80 pitches for strikes.
"Like Siemer did in the first game, Currier filled up the zone, kept his pitch count down and had some quick innings," Haecker said.
Eddy got Grand Lake on the scoreboard early again in Game 2. He singled, advanced to second on a walk to Will David and then Eddy stole third for his second steal of the day. An errant throw to third base allowed Eddy to head home for a 1-0 advantage. Noah Thigpen knocked home a run with a line-drive single. St. Clair starter Collin Ledbetter threw 38 pitches in the first inning. He avoided further damage with an inning-ending 1-2-3 double play.
Grand Lake had the bases loaded with one out in the third before Vonderhaar had a hard-hit ball to third turned into an inning-ending double play. But Vonderhaar connected for a two-run double an inning later. David began the fifth with a double off the left field fence. Thigpen made it 3-0 with an RBI sac fly later in the frame and then Vonderhaar came through with his clutch hit.
Sinju doubled down the right field line on an 0-2 count in the fifth. Soon after, Sinju was ruled out after leaving second base early while trying to tag up to third. Currier then forced a pop fly for the final out of the inning.
Currier, now 2-3, lowered his ERA to 2.16 on the season. Eddy and David each had two hits.
The Mariners improved to 15-16, pulling closer to the coveted second position in the GLSCL North Division standings. The sweep also vaulted Grand Lake over St. Clair (14-16) in the North Division. Lima leads the division (22-10). Michigan, Grand Lake, St. Clair and Muskegon are all jockeying for second place.
"For us to really get back into the picture, we have to win six of 6 of 8 this week, in my opinion, to really set us up for the end of the year," Haecker said. "Lima's going to be tough and then we've got Galion at the end, but it was big for us to get 3 of 4 in the first two days. We're going to have a long one again tomorrow. But just setting up your bullpen for these next four days is what's key going into the weekend."
Grand Lake and St. Clair will play the fifth game of the series tonight at 7:05 p.m. in Celina.