Monday, July 29th, 2019
'Hometown' hit
Celina boxing event has solid turnout
By Colin Foster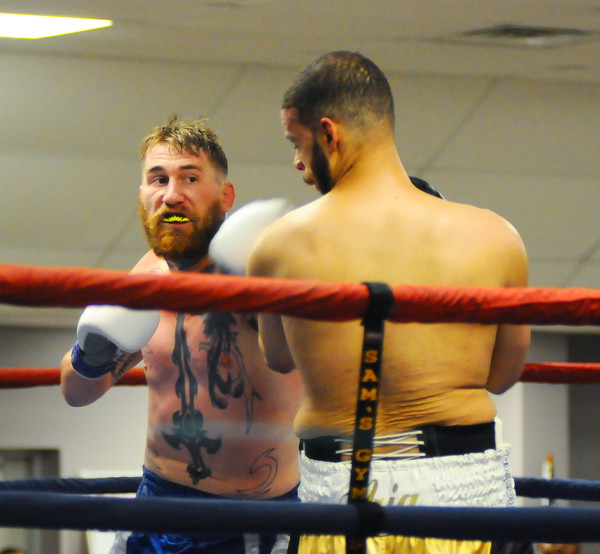 CELINA - The hometown kid threw a knockout punch on Saturday night.
And those in attendance at the "Hometown Showdown - A Night of Professional Boxing" would likely agree that Apex Boxing Promotions' show packed a serious punch of entertainment.
Celina graduate Caleb Fickert was victorious in his professional debut with a fourth-round knockout of Justin Parks. In the co-main events, Raymond "Little Rock" Castaneda won by unanimous decision against Maurice Anthony and Carlos "Simply the Best" Suarez earned a split-decision victory over Rondarius Hunter. In the opening match, Darnel "Achilles" Pettis was a unanimous winner against Junior Rocci.
Two fights were cancelled at the last minute, but the production featured a little bit of everything - including ring girls, famed boxing announcer Pete Trevino Jr., a captivating National Anthem performance by Celina alum Brittany Steinbrunner, a colorful speech from Van Wert fighter Paul "Nite Nite" Barton and a Tina Turner entrance song, too.
A nearly sold-out Junior Fair Building in Celina witnessed it all.
"I think our capacity was around 420 and it seemed pretty full," said Aaron Rodriguez, who co-promoted the event with Lisa Vondrell. "I think it was a success. Everybody who attended I think we exceeded their expectations. Everybody is begging for another show already."
Fickert's fight was the only one that ended early (three matches were slated to go four rounds and one was six). Fickert popped Parks with a series of shots and dropped him 30 seconds into the fourth round. Then the cruiserweight fighter hopped on the turnbuckle and received a roar from the crowd.
"Thanks to everyone for coming out and supporting us," said Fickert to Trevino in a post-match interview. "This means the world to me. I'm on top of Mount Everest."
Pettis, representing Cleveland, impressed in the match prior against Rocci. The lightweight boxer improved to 4-14 in his pro career while Rocci fell to 1-1.
With two matches in the books, it was time to go "Nite Nite."
Barton was one of the show's biggest draws but he didn't get to fight as his opponent, Mike Widmer, backed out at the last minute. Barton - whose brother and dad had successful professional boxing careers - still got in the ring with his six kids and addressed the crowd.
"He got scared," said Barton of Widmer, who was at Friday's weigh-in, checked into fight on Saturday and then left town.
The Suarez-Hunter match was the lone one featuring six rounds. Hunter, an Atlanta resident, showed up late to Friday's weigh-in and had a lot of words for Suarez once he arrived.
But Suarez, a 2012 Olympian for Trinidad and Tobago, had the final say. The flyweight fighter from Lima made his entrance to Turner's "(Simply) The Best," a tribute to his own nickname. Suarez then went on to defeat Hunter by a split decision. Suarez improved to 11-3 and Hunter fell to 4-4.
"Of course Carlos Suarez is from Lima and had a big crowd behind him," Vondrell said. "I was so proud of him. There was a lot of animosity coming at him from Rondarius.
"Pettis finally got the chance to showcase his skills," she added. "He's normally the B-fight, he's got no opportunity, nobody cheering, and he looked amazing last night. … I was proud of Caleb because that was exactly what he wanted to do in front of everybody. He was pretty good. He did his thing."
It was Ohio against Ann Arbor, Michigan in the late fight. And yes, the Ohio State fans in the audience made sure Anthony knew they weren't in his corner when he met Castaneda.
"We're definitely not rooting for you, Ann Arbor," one ringside fan shouted, drawing a smile from Anthony.
"Little Rock" Castaneda was the one smiling by the end, though. The super lightweight who calls Defiance home stayed undefeated in his professional career, improving to 6-0 with a major-decision win. Anthony is now 1-1.
"Every fight was evenly matched - it was hard to tell who was going to win," Rodriguez said. "But in the end, all the hometown boys came through."
It was a fight in itself for Rodriguez and Vondrell to make the event happen. They lost their original venue to flooding and had to push the event back nearly two months; their star boxer, Celina's Mike Wessel, was shelved with an injury; and then replacement headliner Tipton Walker couldn't box after showing up overweight to the weigh-in.
After all that, Rodriguez and Vondrell still managed to make it a 'Hometown' hit.
"It was such a problem child the whole time, so who knew how it was going to turn out or how it would end up being received," Vondrell said. "But I was impressed. People came out."