Friday, August 9th, 2019
Semitrailer plows into cornfield
By Sydney Albert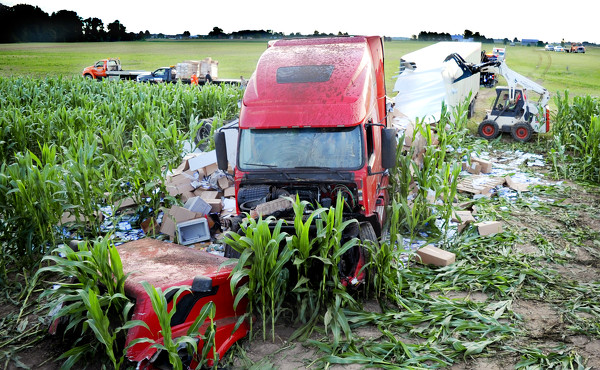 CELINA - The driver of a semitrailer transporting packing material for feminine products was hospitalized after his vehicle went into a cornfield along State Route 29 early Thursday morning.
A citizen reportedly called in at 1:44 a.m. to report a semi that had gone into a cornfield north of State Route 29 at the curve between Staeger and Havemann roads, according to a Celina Police Department news release.
Upon arrival, officers found the truck in the field, but the driver could not be located. An Ohio State Highway Patrol helicopter was called in. Using its forward-looking infrared camera, the pilots were able to locate Alexander Khaspekov, 54, about 150 feet from the semi. Mercer County Sheriff's deputies and St. Marys police also assisted in the search.
Khaspekov was reportedly passing in and out of consciousness and was transported to Mercer County Community Hospital, Coldwater, by ambulance with non-life-threatening injuries.
The investigation reportedly revealed that Khaspekov had been operating a 2015 Volvo semitrailer westbound on State Route 29 when, for an unknown reason, he failed to negotiate the curve and drove off the north side of the roadway. His vehicle traveled a few hundred feet and crashed through a drainage ditch before coming to a rest. Khaspekov then apparently exited the truck and wandered in the corn until he lost consciousness, the release stated.
The Celina Police Department thanked the citizen who made the call, as well as patrol, sheriff's and St. Marys police personnel for their assistance.
See photo album.