Tuesday, August 13th, 2019
End of Esselstein era
Parkway softball coach steps down after 33 years
By Colin Foster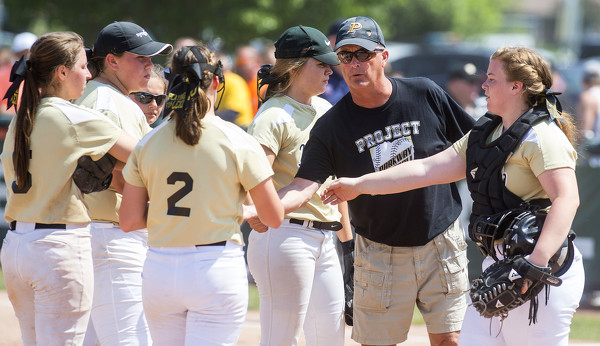 ROCKFORD - Mark Esselstein spent more than a quarter-century coaching girls whom he considered family.
But his actual family comes first now.
After 33 years of piloting Parkway softball to success, Esselstein has stepped down. Parkway Local Schools Board members will vote on his resignation during tonight's meeting.
The reasoning behind Esselstein's decision was to focus on family life with seventh-grade daughter Emerson, a budding softball player, and wife Ann, he said. However, the coach who posted a career record of 551-172 at Parkway isn't planning a full exit from softball.
"It's not at all that I'm ready to be done coaching," said Esselstein, who will continue serving as Parkway Elementary School Principal. "I'm still going to be coaching rec ball in the spring and fall ball and maybe a little bit of travel ball in the summer depending on how things go. It's not like the love is gone or anything like that; it's still there. But it's time to put family first."
The 1976 Alter High School graduate came to Rockford in the 1980s in hopes of coaching basketball. Instead, Esselstein was asked to coach Parkway softball for the inaugural season in 1987. He's been the program's only head coach since then - and the Panthers never had a losing season under his watch.
His resume includes three state semifinals appearances (1997, 1998 and 2013), 13 district championships, 11 district runner-ups and a record 13 MAC championships. The Panthers had 20 or more wins in a season nine times during that stretch, which included a program-best 27-2 mark in 1998.
Esselstein was inducted into the Ohio High School Fast Pitch Softball Coaches Association's Hall of Fame in 2008
"I came to Parkway thinking I'm going to set the world on fire coaching boys basketball (Esselstein coached the Panther boys from 1986 to 1991)," Esselstein said. "After I got here, they said they wanted to start a softball program. They asked if I was interested. I said 'sure, why not?' I had coached baseball. How different could it be?
"Lo and behold, we had really good athletes in school right then and there and we were successful from the get go."
The coach credited the players and assistant coaches for making the success possible.
Even though Esselstein is stepping down, he intends to be there for his Parkway softball family in the future.
"I'm sure I will visit with the (high school players) over the course of the school year and that kind of stuff," he said. "I plan on being there for whoever takes my place and helping out and supporting the girls in whatever way I can."