Monday, August 19th, 2019
2019 Cavalier Spikeoff
Redskins begin season with title
By Gary R. Rasberry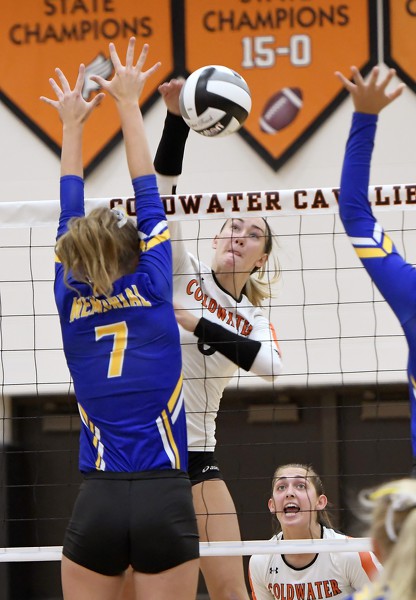 COLDWATER -The 11th edition of the Cavalier Spikeoff volleyball tournament featured a state champion and several teams that made runs in the tournament last season.
When the dust settled after a long time of action, defending Midwest Athletic Conference champion St. Henry came through to capture a record-tying third championship by beating defending Western Buckeye League champ Ottawa-Glandorf in matching 25-17 sets in the final.
"Coming into this tournament, you know how many great teams will be here," said Redskins coach Tricia Rosenbeck. "I'm happy how the girls stepped up and played against some great competition. We had our issues here and there, but it's awesome it worked out. I feel good moving forward."
The Redskins opened with a challenge against two-time tourney champ Miami East. St. Henry won the first set 25-17 before the Vikings leveled the match with a 25-21 victory in the second set. St. Henry took the third set 25-17 to advance and play a Fort Loramie squad that opened the tournament with a two-set win over defending Division III state champion Versailles. The battle of Redskins went St. Henry's way with a 25-19, 25-23 win to advance to the final against the Titans, who were trying to win their third title in four years after beating New Knoxville in two sets in round one and then host Coldwater 25-15, 25-20 in the semifinals.
In both sets, the Titans jumped out to 3-0 leads before the Redskins clawed their way back. With Marlee Vaughn serving and trailing 8-7, St. Henry tied and took a brief 9-8 lead. O-G tied the game at 9-, 10-, 11-, and 12-all before the Redskins took the lead for good. Up 16-14, Marlee Vaughn returned to serve and served up fourth straight points thanks to a block from triplet sister Nora Vaughn and two kills by Brianna Siefring to go up 20-14 and put away the game.
St. Henry served to start the second set but lost the opening point on a side out, followed by an ace by the Titans' Claire Eieden and a kill by Taylor Alt to go up 3-0 before Hannah Bruns got the kill for the side out. The Redskins methodically worked their back into the set, tying the game at 8-all with Marlee Vaughn serving as Siefring got the tying kill, followed by an ace and a stuff block from Nora Vaughn to make the score 10-8 before O-G stopped the run.
The Titans tied the game at 11-all, but St. Henry got the side out and then Nora Vaughn served up five straight points. The Titans made three hitting errors and Bruns and Carley Winner each had kills to put St. Henry up 19-12. Marlee Vaughn nearly applied the coup de grâce with three straight points to make it 23-13 but the Titans were able to get back a few points.
"We talked about first contact and winning first contact, whether it would be when we're serving or in serve receive," said Rosenbeck. "I feel like we won first contact against O-G. We went on some good service runs."
Nora Vaughn had 25 kills for St. Henry in the tournament. Bruns added 22 kills and Mia Niekamp had 13 kills and five blocks. Addy Vaughn had 65 assists with Marlee Vaughn recording 40 digs and three aces.
After losing to Ottawa-Glandorf, Coldwater - which opened with a 25-5, 25-17 win over St. Marys in the first round - took on Fort Loramie to try for third place. The Shelby County Redskins took the match with matching 25-22 sets to drop the host Cavaliers to fifth.
"I feel it's a great tournament for us to see what our strengths and weaknesses are," said Cavaliers coach Nikki Etzler. "We wish we could have played better between points 13 and 18 because I think they will make us better to finish stronger. We know what we need to work on. We have to get better each day in the gym."
Ball State-bound Lauren Gilliland had 27 kills during the tournament. Annelise Harlamert had 43 assists and Aubrey Koester finished with 33 digs.
St. Marys, having lost its second round match to Auglaize County neighbor New Knoxville 15-25, 13-25, tried to get new coach Madison Broering her first victory in the seventh/eighth-place match against Versailles, putting Broering against fellow St. Henry alum Kenzie Bruggeman. The Tigers picked up their first win of the season in beating the Roughriders in straight 25-18 sets.
Leah Walter led St. Marys with 11 kills in the tournament. Cherissa Priddy had 15 digs and Cora Rable finished with 24 assists.
New Knoxville won the fourth/sixth-place match with a 25-12, 25-16 victory over Miami East.