Thursday, August 22nd, 2019
Time to go racing
Local go-kart circuit includes fun and fundraising
By Colin Foster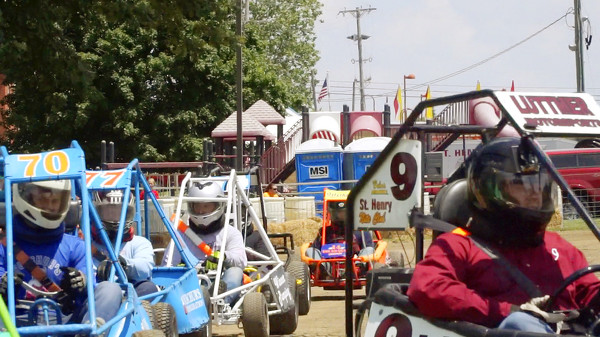 ST. HENRY- Mike Osterholt developed a love for racing when he was growing up.
"When they first put the Daytona 500 on TV, I watched. That was probably 50 years ago," recalled Osterholt, who went on to race go-karts for nearly a quarter-century.
Currently, the St. Henry resident and a group of fellow race enthusiasts have been spreading their love of racing.
In 2014, a group of nine people from St. Henry and Fort Recovery came together to launch Racing for Relief, a non-profit organization that holds a series of go-kart racing events throughout the summer with proceeds going to the Mercer County EMS, Mercer County Firemen's Association and American Red Cross.
"Racing for Relief originated in 2014," board member Alan Siefring said. "A group of nine volunteers came together to become the official board of trustees. We started out going to different festivals to see where we could raise money. The money that we do raise we committed to raising for the emergency personnel as the fire, EMS and Red Cross."
Several of the trustees began racing go-karts around the turn of the century in Jay County, Indiana. Gradually, with a strong presense of racers from Ohio competing, events began to be held in the Western part of the Buckeye State.
"At one time, we were up to 26 teams and it was called Red Cross Racing," Osterholt explained. "That went to 2014, I believe I was told. Then we changed over, came to Ohio."
Osterholt, Siefring, Nathan Fortkamp, Kevin Luttmer, Doug Watercutter, Craig Buschur, Ron Dues, Toby Huelsman and Nick Stammen were on the original board of trustees. The organization has raised more than $189,000 since it began.
"Great sponsors, great volunteers, great teams, great county living," Siefring said.
Like any other driving circuit, Racing for Relief has qualifying, heat races and features with teams being scored on a points system. Teams and events are sponsored, and it takes roughly 20-30 volunteers to help each race smoothly.
Events were held this year in Fort Recovery, Rockford, Maria Stein, St. Henry and at Eldora Speedway's "Little E" Track. The amount of teams has fluctuated over the years. Ten teams comprised the field this year - a number Racing for Relief would like to see rise.
"All of us and a lot of our friends have (raced) in the past," said current Racing for Relief President Nathan Fortkamp. "Now that we're starting to get out of it, we're trying to get some new blood into it that's not just our friends. All of us at Racing for Relief have kind of become a family. But our group has kind of tapped out as new drivers, so we're trying to get into the high schools."
"Anybody that tries it enjoys it," Osterholt added. "If you're at all willing to put the time in and give it a diligent effort, once you sit in the cart and race with nine carts or 15 carts around you, when you go into that first turn, that's an exhilaration that you can't duplicate."
By all accounts, the teenage racers enjoy it, too.
"It's a blast," said Evan Westgerdes, a member of the Young Guns team from Fort Recovery. "It's intimidating at first, but once you get into the cart and you start getting a few laps around, you start to feel for it and it starts to get fun. The competition is out there, and you couldn't ask for anything better."
The final checkered flag of Racing for Relief's 2019 season waved in July. The first green flag of the 2020 season will fly next June.
For more information about how to become a racer or sponsor, call 419-852-4904 or email racing4relief@gmail.com.