Tuesday, September 10th, 2019
Battling Bulldogs
Celina shows character in loss
By Gary R. Rasberry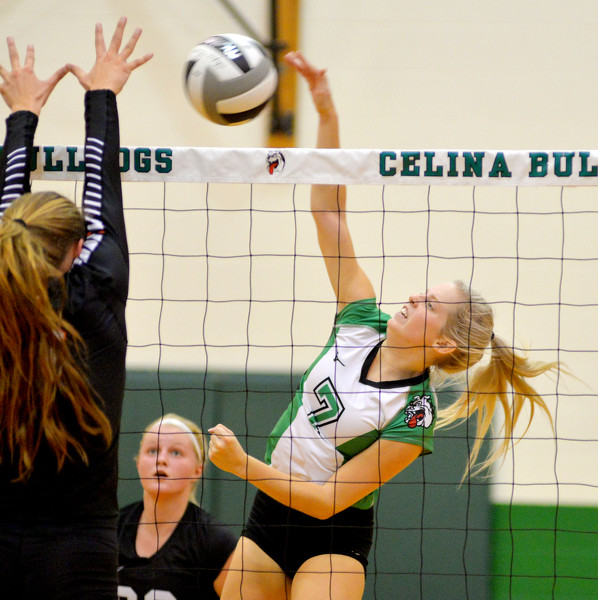 CELINA - As far as performance, Monday was a night-and-day better experience for the Celina volleyball team.
Although the Bulldogs dropped a 25-18, 25-16, 27-25 match to state-ranked and defending Division III state champ Versailles at the Intermediate School gymnasium, Celina coach Amy Sutter was pleased with the effort her team gave after going thought a rough loss in three sets to Minster on Saturday afternoon.
"I don't know what to blame Saturday on, but tonight we weren't letting our mistakes get in our own way," said Sutter. "I'll bet we limited our mistakes. We had too many unforced errors on Saturday. We totally lost that game ourselves. It was a thousand times better (Monday)."
Celina (5-5) had to deal with the heavy hitting of Tiger attackers Lindsey Winner and Brooke Stonebraker throughout the game. Celina was able to battle through the hitting and come back with some spikes of its own through the first two sets.
"We weren't getting intimidated by their front line," said Sutter. "We managed to dig and block them."
"They're so scrappy. They didn't let a lot of balls hit the floor," said Tigers coach Kenzie Bruggeman. "That's something that made us better tonight. They had a block against us. They served aggressively. It was a fun game tonight."
But it was in the third set where it appeared Celina was turning the corner to avoid being swept by a MAC opponent for the fourth time in five matches this season. Rose McGohan served up an ace as part of a four-point run to put Celina in front 6-3. The Tigers came back to tie the set at 7-all before Celina went back up 11-8. Versailles took the lead at 12-11 during Caitlin McEldowney's service run, but rather than fall apart, Celina came back to go up 14-12 on a Brooklyn Bourne ace.
The teams tied up at 14-, 15-, 16-, 17- and 18-all before Celina took the lead on a Tiger net violation and a kill by Bourne. Then during Kayla Brunswick's service run, Tiger hitting errors gave Celina a 23-19 lead. But the Tigers came back with Caitlin McEldowney serving up an ace and a Celina hitting error cutting the margin to 23-22 befere Maria Lutz tallied a kill to give Celina set point at 24-22. Emma George denied Celina the set with a kill to make it 24-23 and than a Celina net violation tied the set. A Celina hitting error gave Versailles match point, but Amelia Lutz tied the set at 25-all with a kill. Winner gave Versailles match point and the serve with a spike and then teamed with Stonebraker for the winning block.
"There's no shame in losing when you put your heart and soul into a game like that," said Sutter. "Even though at the end I think we let up a little from what we were doing, I'm so proud of the effort. It was nice to see them fight."
"Last week we were in a similar situation with tight scores at the end of the game and we made errors," said Bruggeman. "To be in that situation tonight and execute is growth."
Maria Lutz and Amelia Lutz each had five kills to lead Celina. McGohan had 14 digs and Samantha Carlin had 14 assists.
Both teams return to league play on Thursday. Versailles hosts New Knoxville and Celina travels to Elida.