Wednesday, September 11th, 2019
Stubborn Dogs
Celina rallies - and rallies again - to edge Elida
By Gary R. Rasberry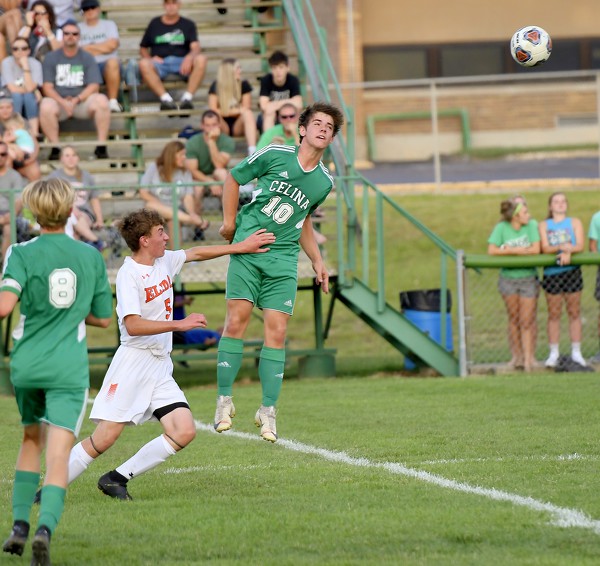 CELINA - There were two sets of stubborn Bulldogs at the soccer stadium on Tuesday night.
After trailing 2-0 early, Celina roared back to take a 3-2 lead, only for Elida to tie seconds later.
Following that, Celina scored again, only for Elida to rally and level the match.
Celina took one last shot, scoring with just over six minutes left in regulation and then held on for dear life to weather Elida's comeback try to take a 5-4 win in Western Buckeye League boys soccer action.
The win moves Celina to 6-2 and 2-1 in the league. Elida suffers its first loss of the season to go to 3-1-2 and 1-1-1,
"It was a battle," said Celina coach Ryan Jenkins. "You go from shutting out teams last week (Celina shut out Liberty-Benton, Kenton and Greenville) to giving up multiple goals. Every time we bounced back."
Judging from the start, it appeared that the night would be a long one for Celina after Elida scored twice in the first 10 minutes of play. Draek Littler scored off an Ethan Thomas pass 74 seconds into the match. Seven minutes later, Tyler Long hit a shot that deflected off a Celina defender and into the Celina goal.
"We got out to a bad start," said Jenkins. "(Elida) capitalized on some of our mistakes."
Celina started its comeback as Nathan Wilson took a Josh Kuehne pass and scored at 25:09 of the first half to put Celina on the board. Neither team scored again in the half as Elida led 2-1.
"We never quit. We talked at halftime that we have to keep battling," said Jenkins.
Jenkins' squad turned up the pressure in the second and within 10 minutes got the equalizer on a Kuehne goal. Three and a half minutes later, Jacob Hathaway scored off a Kuehne pass to give Celina a 3-2 lead. Elida responded quickly off the restart as Thomas got the ball near midfield and broke through the Celina defense to score with 27:58 remaining in the match to tie the game.
Jack Duncan put Celina back on top with 14:45 remaining with a goal, but a minute later, Jonathan Flores scored to tie the match for the third time.
With time winding down, both teams tried hard for the winning goal. Finally with 6:34 remaining, Cale Schmitmeyer scored past Elida keeper Scott Holmgren to give Celina a 5-4 lead. This time, there would be no equalizer as Celina defense fended off every Elida scoring chance to the final whistle.
"It was a great WBL matchup tonight," said Jenkins. "Honestly, both teams played extremely hard and very well. We were fortunate to be on the winning side."
Dalton Leiss had six saves for Celina in goal while Elida's Holmgren had seven saves.
Elida won the junior varsity match 3-1.
Celina returns to action on Saturday with a road trip to Ontario.