Thursday, October 24th, 2019
Dairy launches new center
Facility demonstrates how yogurt is made
By William Kincaid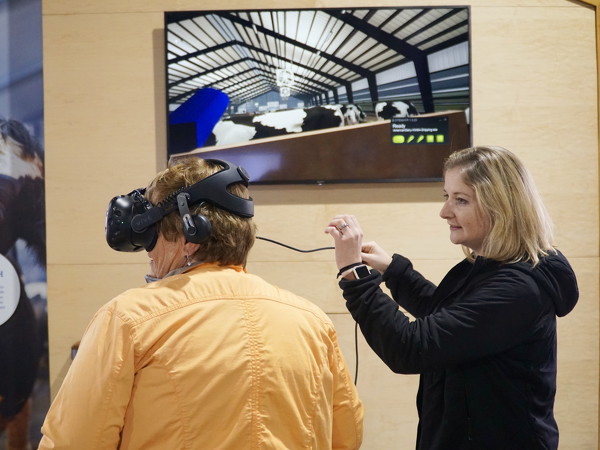 NEPTUNE - MVP Dairy has found great success since the multimillion-dollar state-of-the-art facility on 82 acres began milking cows nearly a year ago on Nov. 13.
Now, the owners will open the doors of its MVP Dairy Learning Center to the public so people can see what it takes to make Dannon Yogurt - from soil to cup.
"We realized we need to educate the kids so they form the right opinions of farming," co-owner Kyle VanTilburg said at a tour of the learning center this week. "We thought it was our job to educate the public of what we're doing and have transparency. We have nothing to hide here. We're trying to do things right."
Nearly 2,000 visitors from as far away as Japan have walked through the learning center since an appointment-only, soft opening in July, MVP Dairy spokeswoman Allison Ryan said. Starting Nov. 5, the center, attached to the dairy, will begin hosting public hours from noon-5 p.m. Tuesdays-Fridays.
A collaboration between the VanTilburg family of Celina and the McCarty family of Colby, Kansas, MVP Dairy produces six to seven semis of non-GMO milk each day that is shipped to Minster's Dannon plant for yogurt production.
Co-owner Kyle VanTilburg said it was during the permit process that the owners realized that most of the general public is removed from farming. For some, the words dairy farming may conjure visions of five or six cows being milked in an old red barn.
"To support today's population, that's not economical any more," he said of the old model.
Today, at MVP Dairy, roughly 3,800 cows are milked three times a day on a specialized rotating carousel, which they mount and exit. It can milk 80 animals at a time over the course of 8 minutes.
"Production's been excellent. We're in the 95 to 96, 97 pounds of milk per cow per day," VanTilburg said. "We designed a facility that's working real well."
The owners decided to create a learning center to educate people about that process.
"This is kind of a look at modern agriculture," he said.
It was not included in the original plan and is in the process of being designated as a nonprofit entity.
"It was really driven by the questions. Most people are actually three to four generations removed from agriculture. We're very proud of what we do here, and instead of expecting people to Google it, why not bring them in here and show them firsthand?" Ryan said of the learning center. "The goal here is to create a learning facility for students to come in and learn, and we try to be reactive to different age groups. We've got a little something for everyone."
Ryan was brought on board in March to help develop the learning center. Originally from Darke County, she lives in Montezuma with her husband and previously worked with the American Dairy Association. Her new job is a perfect fit.
"I've been explaining the dairy industry and agriculture since I was 9 years old at the state fair and getting lots and lots of questions," she said.
The learning center features a timeline of MVP's development, exhibits explaining the components of dairy farming and interactive displays, culminating with an overhead view of the milking carousel.
"We wanted to take people from soil to (yogurt) cup and explain the whole process," she said.
A 2,000-pound display featuring three screens presents a story of the soil, the foundation of life.
"It's built into a custom mound of earth," Ryan explained. "It will mimic the horizon so you'll see what's going on in the soil," she said.
The screen will show what happens at the farm during various parts of the year, from the planting of cover crops to the harvesting of non-GMO corn silage to feed the dairy's 4,200 cows on site.
An interactive grocery store dairy aisle at the center features 32 buttons people can push that include videos and pop-up information about the MVP and Dannon employees behind the final product. People also can sample the yogurt at an eating area on the third floor.
A virtual reality unit allows users to immerse themselves in the milking process.
"The first one's a milking carousel and so you can actually try your hand at working the udder prep stations and virtually attaching the milking unit," she said. "You can actually explore around the free stalls and learn about the amenities and comforts in our free-stall barn."
Those who come to the learning center will get a chance to go through all the exhibits and observe from above the milking carousel. Those wanting a tour of the free-stall barns must make an appointment, she said.
Also, those wishing to bring large groups of people are asked to call ahead of time so Ryan can arrange for enough staff to be on hand to ensure an optimal learning experience.
The learning center will assess a small fee per person that Ryan said will go back into the center and help pay for scholarships for students pursuing and agricultural education.
MVP Dairy is located at 7124 U.S. 33, Celina. For additional information, call 567-324-7100 or visit MVP Dairy's Facebook page.