Friday, December 6th, 2019
Sweet 16
Freund scores 16 first-half points on her way to a career night, leads Cards past Cavaliers
By Colin Foster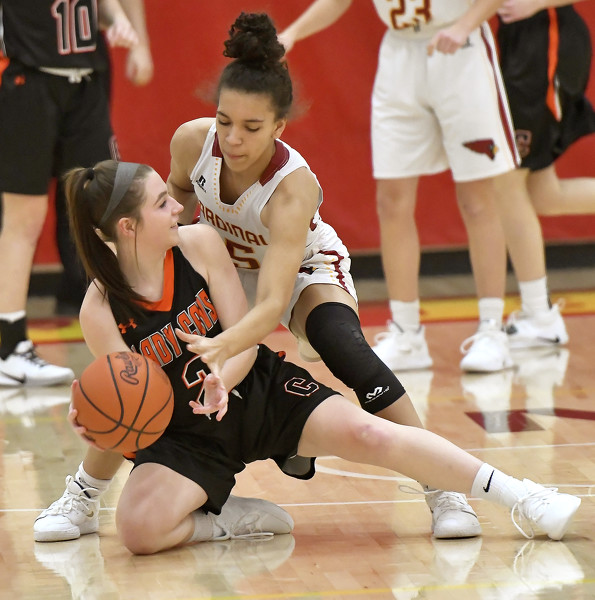 NEW BREMEN - Kaylee Freund had 16 points in one half of basketball earlier this week.
She's making it a habit.
Freund followed her 16-point second half in Tuesday's win over Anna with a duplicate effort in the first half against Coldwater, finishing with a new career-high 23 points to help New Bremen win its Midwest Athletic Conference opener by a score of 51-39 on Thursday at Cardinal Gymnasium.
"This is my 22nd year of coaching, my 10th as varsity, and I think I've seen (16 points in one half) only one other time and that was back when I was a JV coach," New Bremen coach Chris Burden said. "She's just a go-getter and tries to make everybody better. I just love the energy she brings."
The sophomore guard made 8-of-12 from the field and 7-of-10 free throws. Freund is averaging 16.2 points through four games.
Freund led Coldwater's Lauren Gilliland 6-5 through the game's first 4 1/2 minutes. The Cavaliers, however, would be stuck on that number for a long time.
Freund scored 10 points in the first quarter on 4-of-5 shooting and 2-of-3 free throws. Katie Howell found Freund on a backdoor cut for a hoop-and-harm 3-point play, making the score 13-5 after one.
The Cavaliers did not score again in the half. They finished the first 16 minutes 1-for-20 shooting after Gilliland made the lone basket with a 3-pointer on Coldwater's opening possession. New Bremen held a 23-5 lead at the break.
"I think (Kate) Leichty being in foul trouble kind of hindered them a little bit," Burden said. "They had to take her out. When that happened, we were able to just close out on the shooters and rebound the basketball. We were able to sag in and not let Gilliland get into the paint. Just credit to our girls for sticking to the game plan and adjusting during the second quarter there."
Gilliland made Coldwater's first basket of the second half with a long jump shot at the 5:07 mark of quarter three. But Madison Cordonnier canned two 3s, Elli Roetgerman scored six points, Kira Bertke added another trey and New Bremen's lead surpassed 30 for the first time.
The Cavaliers went on a 19-6 run in the fourth quarter, using full-court pressure and offensive rebounds to cut into their deficit. Kate Leichty scored all 10 her points in the second half for the Cavs.
"We've just got to bring a little more energy and focus to start out games," Coldwater coach Keenan Leichty said. "I think the last couple of games we've started out slow, and that's not just shooting-wise. We told them you've got to have a focus mentally when you come out and be ready to play basketball. I thought we didn't have that for whatever reason. We challenged them at halftime, and I thought we came out played a lot better."
"Coldwater's a good team," Burden added. "They'll bounce back. I just thought we played very, very well defensively tonight."
The Cardinals held the Cavaliers to 14-of-54 shooting as they improved to 4-0 on the season.
Freund finished with 10 rebounds for a double-double. Cordonnier nearly had a double-double with 10 points and nine rebounds.
Gilliland had 17 points and 17 rebounds.
New Bremen (4-0) visits Lincolnview on Monday. Coldwater (1-2) travels to Celina on Tuesday.