Friday, January 3rd, 2020
Nothing to lose
Indians snap losing skid to Wildcats with 43-36 victory
By Gary R. Rasberry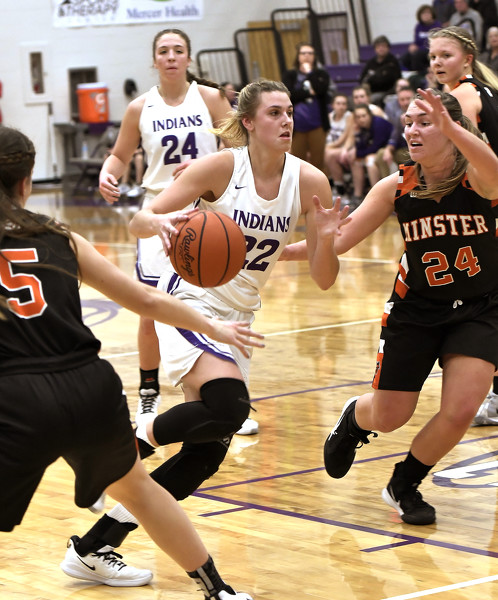 FORT RECOVERY - Fort Recovery girls basketball coach Holly Gann felt like her squad had nothing to lose in facing defending state champion Minster on Thursday night.
The two teams have squared off in some good games over the past few years and the latest meeting was no different.
The Indians got great defense and timely buckets early and held off the Wildcats' fourth-quarter charge to pick up the 43-36 win in MAC play at Fort Site Fieldhouse. It was the first win for the Indians over the Wildcats since a 43-33 result on Feb. 25, 2012 in the sectional tournament.
The win moves Fort Recovery to 7-2 (2-1 MAC) and extends its win streak to five straight. The loss snaps Minster's eight-game overall win streak and 14-game conference win streak in dropping to 9-2 and 2-1.
"We were coming into a game where we had nothing to lose," said Gann, the former Fort Recovery and Defiance College standout. "We played like there was no tomorrow. That is exactly what I love to see out of them."
The Indians got going from the opening tip as buckets by Alli Vaughn and Olivia Patch and a 3-pointer by Kierra Wendel made the score 7-0 before Minster's Ivy Wolf snapped the skid with a jumper near the midway point of the first quarter. Val Muhlenkamp added a trey to raise the margin to 10-2 before Minster came back to make it 14-7 after one quarter.
"The first quarter has been something where we have thrived," said Minster coach Mike Wiss, a reference to the Wildcats having outscored their opponents 168-72 in the first quarter coming into the game. "Today, we left them open in the corner too many times. We didn't do a good job early matching their energy."
In addition to solid shooting early in the game, Fort Recovery played solid defense, especially against Ivy Wolf. Brooke Kahlig drew the assignment and put the pressure on the reigning MAC Player of the Year. Ivy Wolf did finish with a game-high 14 - four under her season average - but was 6-of-14 from the floor.
"Brooke did her job like she usually does," said Gann. "She does things that are not coachable. She goes in and works her butt off defensively. … Those players are hard to find. She came out and held the best girl in the MAC to 14 points. That's something to be pretty happy about."
Fort Recovery was up as many as 11 points in the first half before Minster cut the margin to 23-14 at halftime. Wiss cranked up the defense with a full-court press to start the second half. The pressure allowed Minster to slowly whittle away at the deficit. An Averi Wolf trey cut the margin to 26-23 with 3:22 remaining in the quarter.
"From (the first quarter on) it was a MAC battle like you'd expect it to be, except for one area," said Wiss. "We got hammered on the offensive glass (Fort Recovery had a 13-5 advantage in offensive rebounds). … They had way too many.
"They did a great job defensively and forced us to dribble too much. It got us out of sync. I don't know if our defense got them out of sync."
But as would be the case the rest of the game, Fort Recovery did not break. Whitley Rammel quickly made it a two-possession game again with a stickback and then Vaughn drained a triple to raise the margin to eight.
Trailing 31-27 heading into the final quarter, Minster made another charge. An Averi Wolf basket pulled Minster back to a three-point margin with 6 1/2 minutes remaining, but Rammel had back-to-back bunnies to put Fort Recovery up 36-29 with just over 4 minutes to play. Despite a rough showing at the foul line - Fort Recovery was just 6-of-14 from the stripe in the game and 3-of-11 in the fourth quarter - the Indians deflected the Wildcats' attempts at getting any closer.
"We knew if we were patient, kept our composure and were able to work to get what we wanted, we were going to get the shots we wanted," said Gann. "Great team effort. Minster has a great team as always."
"(Fort Recovery) brought great energy, and we expected that," said Wiss. "They're a nice team. They return everybody from last year. They have a nice bench. This is a tough place to play."
Val Muhlenkamp finished with 11 points and 13 rebounds for Fort Recovery. Vaughn scored 10 and Rammel had five of her seven points in the fourth quarter.
Averi Wolf and Janae Hoying each scored seven to help Minster.
Both teams return to action on Saturday. Fort Recovery travels north to face Liberty-Benton while Minster hosts Lincolnview.