Thursday, January 9th, 2020
Car thief sentenced to 12 years
By Sydney Albert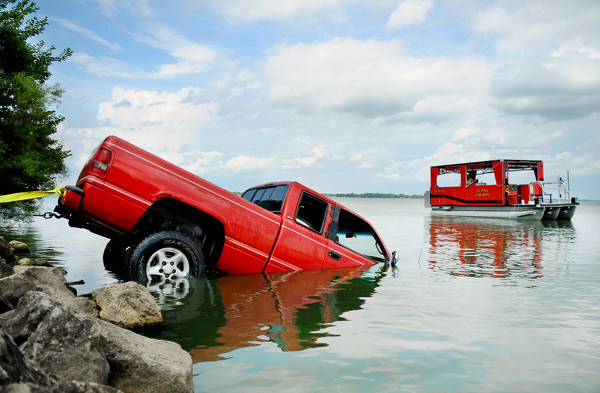 CELINA - A Celina man was sentenced Wednesday to almost 13 years in prison and ordered to pay more than $20,000 in restitution after he pleaded guilty to several felony charges including several related to the theft and dumping of vehicles into Grand Lake.
Tyler Hines, 23, in December pleaded guilty to three third-degree felony charges of burglary, six fourth-degree felony charges of grand theft of a motor vehicle and one fifth-degree charge of breaking and entering. Nine other felony and misdemeanor charges were dismissed as part of a plea deal.
Mercer County Common Pleas Judge Jeffrey Ingraham sentenced Hines to 24 months in prison for each burglary charge, 12 months in prison for each grand theft charge and eight months in prison for the breaking and entering charge, to be served consecutively for a total of 152 months in prison. Hines will receive credit for 157 days served.
Hines was not fined but must pay court costs and attorney fees. He also was ordered to pay a total of $20,729.67 to various victims who applied for restitution. Ten separate victims were involved in the case, but not all applied for restitution, Mercer County Prosecutor Matthew Fox said.
Before sentencing, defense attorney Thomas Lucente Jr. asked the court to take into account his client's young age and said his client had an untreated drug problem, which was one reason he had committed the offenses. Lucente also took issue with the presentence investigation that stated Hines had not shown any genuine remorse for his actions.
Hines in court apologized for the people he had hurt and the property he had destroyed. He said he had been strung out on medications since he was 18 but was finally opening his eyes after hitting rock bottom.
Ingraham said the court would take note but questioned the genuineness of Hines' remorse.
The presentence investigation had also found the victims had suffered economically and in some cases emotionally. Ingraham said Hines's relationship with one victim had been found to facilitate the criminal events while other victims had been chosen at random.
One of the victims, Hines' s sister, told the court that while she still loved her brother, she believed he needed the maximum sentence. Hines had stolen the vacation fund from her and her son, which she had worked hard to save as a single mother, she said.
He had also taken a computer, putting her out of work for a day and erasing three years of documents belonging to her employer, making her fear for her job. She told the court that for a time she and her son had lived in fear that Hines or possibly associates of his who were familiar with the layout of their house would return.
She said she believed Hines is capable of changing, but he had to be the one to initiate that change.