Saturday, February 8th, 2020
105-year-old Charlie Borger of Celina: 'It's good to be here'
By Leslie Gartrell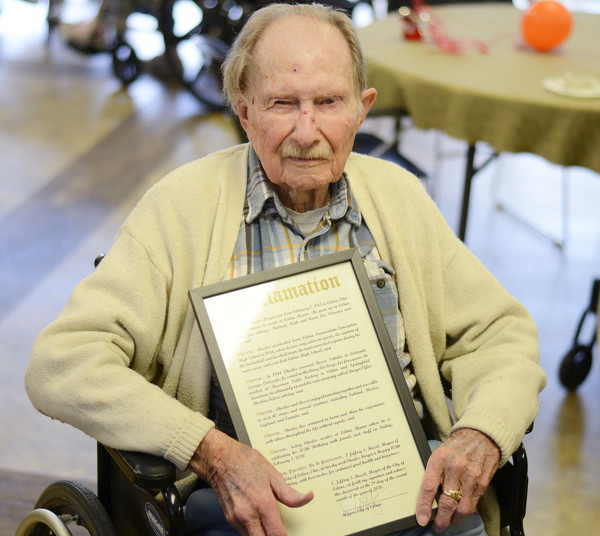 CELINA - Charlie Borger celebrated turning 105 on Friday and divulged his simple secret to longevity: Don't die.
Born Feb. 7, 1915 - "That's A.D., not B.C.," Borger added - the Celina native has always loved telling stories and cracking jokes. When asked if he thought he would make it to this age, Borger said he "just wanted to get past 6 years old."
While Borger didn't attribute his longevity to anything specific, family members who attended his birthday party at Celina Manor on Friday afternoon said he may just have good genes. Borger was one of six children, with three sisters and two brothers. One brother lived to be 102 before he died in 2015, and one of his aunts lived to be 107. Borger is the last surviving sibling.
Borger was proud to say he was captain of both the baseball and basketball team when he attended Immaculate Conception High School. His team never lost a game during his senior year. He beamed when he said they even beat Celina High School. Some of his nieces and nephews said he was always athletic, which could have played a role in his long lifespan.
After graduating in 1934, Borger played semi-pro baseball with the Celina Eagles. He said he was the youngest player and often pitched for the team.
The centenarian said he'd done just about every job one could think of. Borger worked at the Mersman Tables factory in Celina and Springfield Furniture. He recalled one of his first jobs, for which he earned 17 cents an hour during the Great Depression.
Borger eventually became his own boss and opened an office machine repair company. The Celina native said he had been forced out of his previous machine repair job in favor of a big shot from New York, which led him to open Borger Office Machine Inc. Borger said his business eventually overshadowed his old employer's and "ran 'em out." He retired from the company at the age of 61 after owning it for six years.
Borger served in World War II for four years in the Army Air Corps. He'd service airplanes and fix office machines and often fixed typewriters for higher-ranking military officers. On D-Day, he was stationed in London and was thankful he was never made to be a "gunner" because of his age. Borger was almost 30, and they considered him to be "too old," he said.
Borger had at least two close calls while serving in the Corps, he said. German fighter pilots bombed the area where he was stationed in London nearly every day. Borger on one of those days tried to jump into a foxholes only to find it was full. He dove into the next open foxhole he saw. Moments later, the first foxhole was bombed and no one survived.
Borger in another close call was supposed to drive supplies but couldn't go. The men who replaced him had an accident and died.
Borger was stationed in several cities and states throughout the U.S. during his service, including stints in Utah, Arizona, Indianapolis and Colorado Springs.
Colorado Springs was by far one of his favorite places, he said. It was there he met Bessie Schultz, "a little cowgirl from South Dakota," on a blind date. The two married in 1944 after he finished his time in the military. They were married for 69 years before her passing in 2011.
Borger and his wife traveled throughout the United States and across the globe after retirement. Living through the Great Depression made him frugal, and he and his wife never had children, which he said meant they had plenty of money to spend on their shared love of travel.
The couple had traveled to 40 states and later to Ireland, England, Canada and Mexico. But of all the places he visited, Borger said Colorado Springs still holds a special place in his heart.
While he didn't attribute his long life to a special diet or strict way of living, Borger did impart a few words of wisdom he said his father had passed onto him.
"Use your head instead of your mouth and you'll learn a lot," he said with a chuckle.
On Friday, Borger sat with some of his remaining family, mostly nieces, nephews, great-nieces and great-nephews, as other Celina Manor residents ate cake and wished him a happy birthday. Celina Mayor Jeff Hazel had stopped by earlier during the celebration to give Borger a proclamation that highlighted his long life and wished him health and happiness on his 105th birthday.
As other residents started to leave and staff began to clean up, a great-niece mentioned how Borger is always smiling, and the rest of the family heartily agreed. The centenarian paused for a moment, smiling as he took in the sight of his family.
"It's good to be here," he said warmly.