Thursday, February 13th, 2020
Board OKs bid for work on high school
By Jeff Elking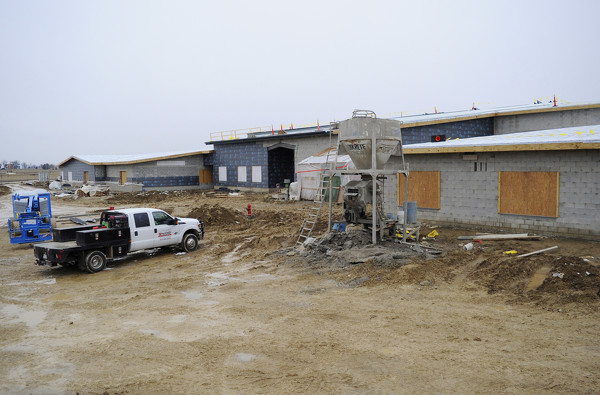 NEW BREMEN - School board members on Wednesday accepted a $209,972 bid from H.A Dorsten of Minster to adapt the high school's south academic hallway for use by seventh- and eighth-graders.
The changes include converting the current business lab into a science lab by adding sinks and countertop space. The update also will include converting office space into a special education room, and transforming the media center office into a video project room.
Superintendent Jason Schrader said he was glad Dorsten's bid came in under the $230,000 estimate and that work should begin in May and wrap up by the end of July.
Muhlenkamp Building Corp. offered a bid of $224,770, the second-lowest of the eight bids.
An overall $20 million building project will bring all New Bremen students onto one campus. A new elementary school will be attached to the existing high school to create a building that will house students in grades K-12.
Schrader said the new 71,000-square-foot school will provide a modern learning environment for about 515 students.
The late Dianne Komminsk in November 2018 also donated $1 million to have the Dianne Komminsk Center for Innovative Thinking built with the rest of the project.
"The building finish date is on time and remains at Aug. 18," Schrader said of the overall building project.
Board members discussed the 2020-21 school calendar but have not yet approved one. Plans call for the first day of school to be Sept. 8, which would give contractors a small cushion if any issues arise. Plans are for the schedule to be approved at the March board meeting.
Three employees also announced their retirement at the end of this school year. They include Gary Jones who has spent 30 years at New Bremen including the last 15 as athletic director; Peg Eilerman, administrative assistant for 27 years; and Jane Moser, study hall monitor for 20 years. Lindsey Mauch also resigned as junior high language arts teacher after seven years. Schrader thanked them all for their service.
In other action, board members,
• hired the following for the spring sports season: Mark Sharp and Chad Williams as varsity track coaches to be assisted by Julie Ferguson and Kris Kuck; Lindsey Roiberg and Cody Topp for junior high track with Seth Williams, Cody King and Joel Niekamp as assistants; Chad Wells, varsity baseball coach with Jack Gilberg, Kurt Rammel and Gary Moeder on the baseball staff; Elly Puthoff as softball head coach with Michelle Voress and Lynette Ross as assistants.
• approved the following community volunteers, Courtney Norris for track, Logan O'Neill for baseball and Mark Cisco for softball.
• announced the Title VIB hearing meeting is set for March 18 at the high school. Community members offering input into the use of the federal funds are invited.
• congratulated senior Jared Bergman for receiving the Honda-Ohio State STEM Medal this year and Hannah Kramer for being named the Franklin B. Walter recipient.
• noted the district spelling bee champion was eighth-grader Ben Hamberg. Runner-up was Emma Eshleman. Hamberg will represent the district at the regional competition in March.
• noted that the New Bremen Education Foundation Fund Drive is underway. Last year, more than 80 scholarships totaling $75,800 were awarded to 2019 seniors. Those interested in donating should contact fund coordinator Anna Rammel at anna.rammel@newbremenfoundation.org.