Monday, March 16th, 2020
What it takes
Parkway fans, players proud of success; waiting for OHSAA's call
By Colin Foster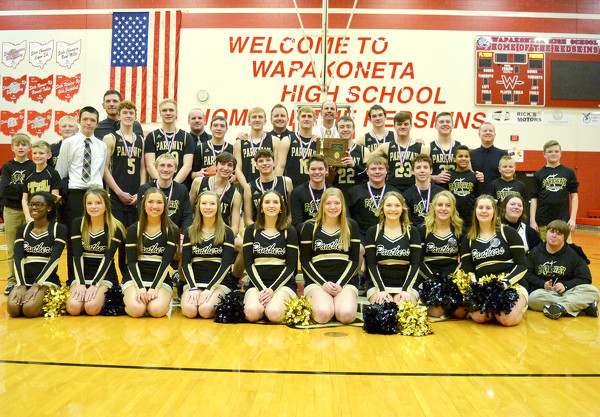 Photo by Daily Standard Staff
ROCKFORD - Mike Schumm knows what a state-championship team looks like.
And the Parkway High School Athletics Hall-of-Fame coach sees a championship makeup in this year's boys basketball squad similar to what his state-winning baseball teams had in 1987 and 1991.
"(Those teams) had that same energy, that same drive, that same cohesiveness as this basketball team does, and I think it's something that's very special," Schumm said.
"This team responds," he added. "Every time there's been a situation where things have started to go south, they have really responded. To me, the heart they play with is second to none - I don't think I've ever seen a team play with such heart as they have."
The praise doesn't stop there for these Panthers, either.
In fact, people all over the three-community Parkway Local School district - Rockford, Willshire and Mendon - have been beaming with Panther pride as the team won district and reached the regional championship for the first time in program history.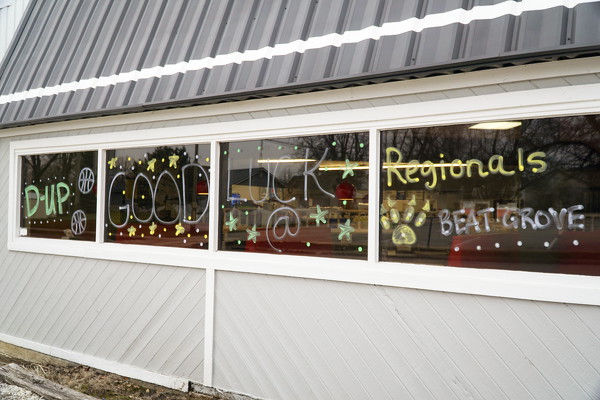 Photo by Daily Standard Staff
Windows are painted with gold and black messages; signs of support plastered all over northern Mercer County; and excitement like there hasn't been in quite some time.
"This is one of the highest-powered offensive basketball team's that Parkway's had in a long time," said 2000 Parkway graduate Ryan Thompson, whose son Roman plays for the junior varsity team. "There's been records broken for all-time scoring (by Caleb Kinney), for most points in a single game (also by Kinney with 46 points against Bradford) and for most wins in a season (19), and I think this is the most-successful span of four years that Parkway basketball has ever seen.
"The elementary kids will forever remember this season," he continued. "They will grow up to tell their own kids about this dream season and be able to name every player on the roster. They will even talk about the team managers by name. They will always remember this experience."
The experience might not be done yet.
Last Tuesday, Parkway defeated Tiffin Calvert 44-42 in the regional semifinal at Bowling Green State University and the Panthers were set to face top-ranked Columbus Grove (26-0) in Friday's final. But early afternoon on Thursday, all remaining boys and girls basketball tournament games were postponed. A day later, Parkway's season officially was put on hiatus as the Ohio High School Athletic Association announced a three-week no-practice period for all winter and spring sports in response to coronavirus concerns. Schools will also be shutdown for three weeks starting after classes today.
"You almost feel like the rug has been pulled out from under your feet," Schumm said. "But at the same time, I think that we have to use good judgement and understand what's being done is in the best interest of the public."
After a .500 campaign in 2018-19, mostly every player returned for coach Doug Hughes' squad - including leading scorer Kinney, who upped his points-per-game average from 13 as a junior to 19 in his senior season. Along the way, the first team All-MAC selection broke Josh Fisher's career-scoring mark of 1,192 points with a 22-point effort against New Knoxville. Kinney's record total currently stands at 1,279 points.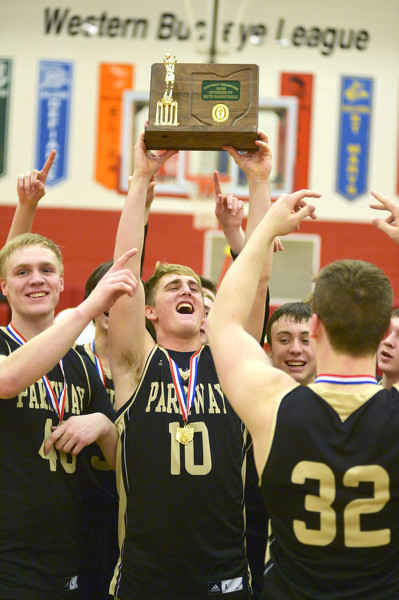 Photo by Daily Standard Staff
The roster includes six other seniors in Nick Hawk, Corey Walls, Gavin Stober, Ryan Hesse, Kendall Roof and Jason Luth. Junior Dylan Hughes and sophomore sharpshooter Caden Slusher have also been impact players this season.
The Panthers (19-7) went 7-2 in Midwest Athletic Conference play to earn second place, their highest finish since 2000-01. They had won six straight games before their season was stopped.
"I think we're playing really good basketball at the right time of the year," coach Hughes said. "You can really see it all coming together, different guys stepping up. You look at our first game of the tournament against Upper Scioto Valley, Dylan had a really good game. The next two games Caden hit big shots and Caleb stepped up. The last game Nick hit some big free throws. Gavin and Corey have played big minutes. So it's definitely been a collective effort in which we're all playing really-good basketball at the right time of the year. That's what it takes."
From the big stage the barn. For the next three weeks, the Panthers will be playing a little barnyard basketball at a teammate's barn-hoops complex without the presence of their coaches.
They don't mind, though.
"If you go through 1-9 guys who play varsity, I think everyone of them will tell you they love basketball and they love coming to practice everyday," said the coach's son Dylan Hughes, a first team All-MAC pick. "Honestly, this three-week period or whatever you want to call it, I think a lot of the guys will like it because we get to spend three more weeks with one another at least. We just feel like family. We don't ever want this ride to end."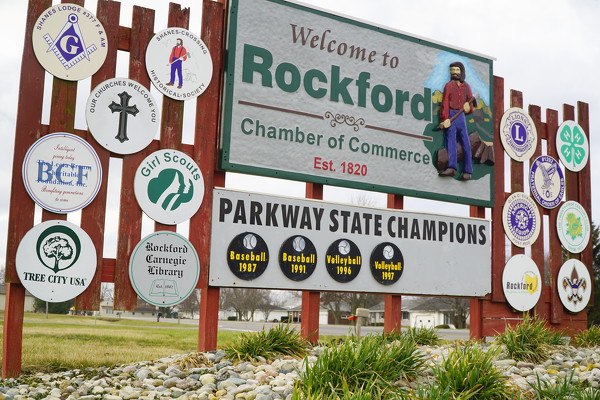 Photo by Daily Standard Staff
"The 1991 (championship) was close to my heart because I graduated in the 90s and I knew all those guys real well," Parkway alum Bryan Schoenleben said. "That was very similar to what we're seeing now with support of the community."
"When we went to the ballgames during those years, it was either a sea of gold or a sea of black," Schumm recalled. "We had more fans than any team at those state tournaments. It was really exciting. Before we entered the field, you could hear the roar of the crowd as the gates opened and we started coming through."
For its district and regional games, Parkway sold an estimated 1,600 presale tickets. The Panthers have felt the love from MAC and other area schools during their run, too.
"The most-deserved part of this for Rockford, Willshire, Mendon and just in the entire Parkway school district is having the chance to feel that Midwest Athletic Conference support," Thompson said. "Up in Bowling Green this week, there were followers from multiple MAC schools. There were people there from Van Wert. There were people there from Crestview. Just all the neighboring districts are rallying behind Parkway - and that hasn't happened in a long time."
After defeating Marion 41-31 in the district final on March 6, the team was escorted through Willshire, Mendon and Rockford by fire trucks - a celebration Parkway's boys basketball program had never experienced before.
"If you'd have been here to see the reception these guys got after district, it was phenomenal," Schoenleben said.
Parkway sits three wins away from a celebration of greater magnitude. The team eagerly awaits a chance to prove they can become the MAC's 137th state champion of all-time, players said.
"Ever since we were little, we told people we want to win a state championship, and they just laughed at us," Walls said. "Ever since then, us group of seniors remembered that and had that in the back of our mind every single day. Here we are now, we're on our way. We've just got to go finish it."
"We feel like we can beat anybody in the state," Slusher added.
How will the school district respond if the OHSAA nixes the tournament completely? Parkway baseball coach Luke Clouse suggests the Panthers declare themselves champs like the University of Central Florida did after going undefeated in 2017 but being left out of the College Football Playoff.
"They're like UCF in college football … They're state champs. Prove me wrong," Clouse said with a grin.
Regardless of how it plays out, this team appears to have what it takes to reach the top.
"There's always going to be that question of 'Do you think it's possible?' " Schumm said. "With this group, I think it's absolutely possible."